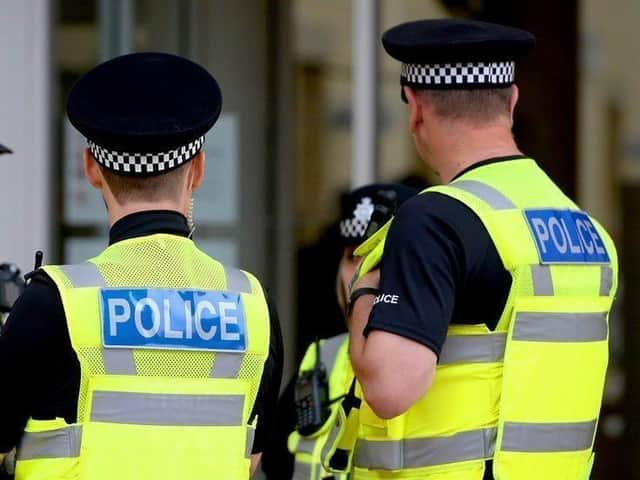 Police officers on the beat
Despite an unprecedented number of initiatives, including setting targets for the percentage of BAME officers in forces, positive action programmes and more recently, direct entry, the impact on BAME representation in policing has been negligible.
Some believe the black community's confidence is affected by statistics which showed that black people are more likely to be searched by police.
In March the Ministry of Justice released figures indicating black people in Lancashire are five times more likely to be stopped by officers than white people.
Glenda Andrew, who formed the Preston Windrush Generation and Descendants UK – PWGD UK - in the wake of the windrush scandal, has been meeting with Lancashire Police to discuss issues affecting the black community.
She agrees that the disproportionate stop search data is a major factor and says: "It's all right talking and ticking boxes but no action is happening.
"The police commissioner has been on marches with us and has attended many of our conferences, and the community police are doing a great job but you have to build on that relationship.
"How are you going to get people from the black community involved in the police when it's noted institutionally as being racist? Not everybody's overtly racist, but some people have unconscious biases. That's not just the police, it's councils, education, universities.
"Stop the profiling. Stop the stop and search. How can you build a relationship and help heal the anger a lot of people have felt when this is going on?"
She praised the county's community engagement officers she'd had experience with, but added: "There's only two I know of, and they're excellent, but there's no black or Asian officer on the streets doing what they do.
"One of the things we want to come out of this is we're asking for a monitoring group of what's going on, so that there's an advocate between the community and the police."
Sandra Kerr, race director at Business in the Community (BITC), which has campaigned for workplace racial equality for 25 years, has been vocal about the issue.
She says: "Black livelihoods matter and employers need to take urgent action to ensure that their organisation is inclusive and a place where people of any ethnic background can thrive and succeed."
Nationally as of March 2018, only 6.6% of all police officers were from BAME communities and despite this percentage increasing annually, it is still considerably lower than the 14% of the population in England and Wales that identify as BAME. Only 4% of officers of rank chief inspector or above identify as BAME.
A Lancashire spokesman for the National Black Police Association explains: " It should be recognised that as the landscape of diverse communities evolves, so does the nature and complexity of the threat and risk in policing the country.
" The ethnicity of both victims of crime and perpetrators has also significantly evolved, and compounded with disparity and disproportionality in terms of misconduct, hate crime, stop/search, use of force, lack of resources for meaningful community engagement, the impact of Brexit and Covid, the challenges faced both by BAME communities and police services nationally has increased incredibly.
"Furthermore, the relationship between these challenges and recruitment and retention of BAME staff must be clearly understood. Trust and confidence is particularly low in the BAME communities and now is the time to start listening to the concerns being raised in relation to the disproportionate use of powers and negative experiences of BAME officers inside policing.
"Police forces need to step up their engagement with all these communities in order to build trust or these communities will never recognise policing as a potential career."
Lancashire Police has been carrying out ongoing work to encourage members of minority ethnic groups and people with disabilities, who are also under-represented in its workforce, to consider a police career, but as of yet, it does not seem to have increased the number of black applicants.
The force has identified an operational requirement to recruit people from black and minority ethnicities, and LGBT communities.
The Equality Act allows organisations suffering under-representation to use 'positive action' - steps employers can take to level the playing field for under-represented groups. It includes providing advice, guidance and support to applicants where required, whilst still maintaining the high standards for recruitment and promotion.
The force stresses the selection process is based purely on the required skills and abilities of the candidate for the role.
Assistant Chief Constable Peter Lawson, said: "The Constabulary is committed to serving all the communities of Lancashire and, in order to do this effectively, we need to ensure that our workforce is representative of those communities.
"Currently, we are falling short and we know that we need to do more to attract applicants from different backgrounds to a policing career. We are working hard to attract applicants from BAME communities who may not have previously considered a career in policing, however, there are many barriers to joining the police and we hope to help people overcome these in the early stages so we can improve our representation. Our workforce is incredibly proud to serve and we offer a variety of roles and opportunities as an employer that many people may not be aware of – being a police officer is only one route in.
"We will be targeting people who can offer us the skills we are missing, such as a second language, and who have a broad cultural awareness and understanding of some of our more hard to reach communities. With the extra investment in policing, this is a great time to consider a career change and to explore all we have to offer as one of the largest employers in Lancashire.
"We know there is no quick and easy fix. If there was we would be in a better position, however we are looking at new and innovative ways to improve and sustain representation in our workforce to better reflect our communities. This is absolutely critical if we are to remain operationally effective and to build and maintain trust in policing across all our communities in Lancashire."
The force's Workforce Representation Team offers a variety of initiatives - such as providing appropriate advice, encouragement and support - throughout the recruitment process specifically for people who are underrepresented within the organisation.
Lancashire Police and Crime Commissioner Clive Grunshaw says: "I am committed to ensuring that Lancashire Constabulary is representative of the community that it serves. This commitment is underpinned by investment in Workforce Representation coordinators who work closely with the Equality and Diversity coordinator.
"Whilst levels of BAME representation are low, there has been significant effort put into understanding why this is the case and how this can be improved upon.
"The proposed uplift in police officers across the country provides Lancashire Constabulary with a unique opportunity to engage with BAME people in the area and to encourage them to apply to be an officer. Recent recruitment drives saw positive engagement with BAME applicants making up over 12% of the total number of applicants for the Degree Holder Entry Programme. This is a 4% rise year on year in comparison with the applications for the Degree Holder Entry Programme in 2019.
"I would encourage people from BAME backgrounds to think about applying to be a police officer when future recruitment windows open"