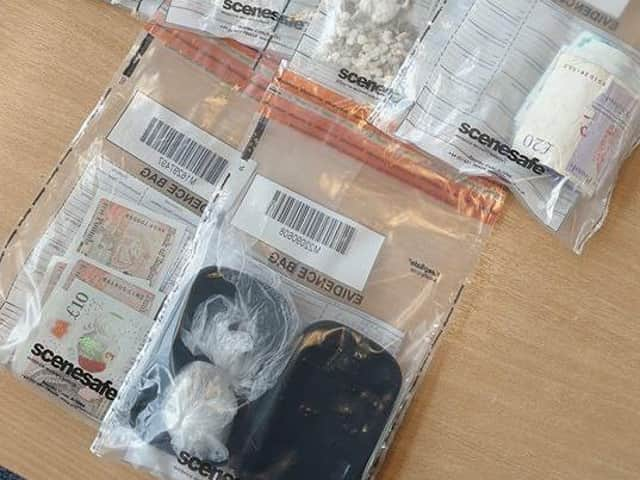 A large amount of suspected heroin and crack cocaine has been seized after the arrest of two teenagers in Lancaster city centre at the weekend
The young men - aged 17 and 19, were arrested on suspicion of Possession with Intent to Supply Class A Drugs at a home in the city centre.
Officers said the pair - who are from outside of the city - were found with a large amount of heroin and crack cocaine.
It is the second weekend in a row that the Lancaster and Morecambe Task Force has arrested teenagers from outside the area on suspicion of selling hard drugs in the city.
Last week, two men aged 19 and 18, were arrested following a raid at a home on the Marsh estate. The pair were found with heroin and crack cocaine and arrested on suspicion of possession of Class A drugs with the intent to supply.
Following last week's arrests, the task force sent a warning to other dealers who might be thinking of trafficking drugs into the city.
This weekend, the force has repeated its warning following the latest arrests.
A spokesman for the taskforce said: "Following on from Task Force's post last weekend, it would appear that some in particular are taking our comments lightly.
"Yesterday (May 2), Task Force arrested a 17-year-old male and a 19-year-old male after they were located at an address in Lancaster city centre in possession of a large amount of suspected heroin and crack cocaine.
"Lancaster and Morecambe Task Force would like to reiterate our message from last weekend – we will not tolerate criminals coming to our city and town and dealing drugs.
"As clearly demonstrated over the past two weekends – we WILL find out about you and we WILL target you.
"Again, we cannot achieve this without the help of our community.
"If you have any information about drug dealing in our area, please ring either 101 or contact CrimeStoppers on 0800 555 111."