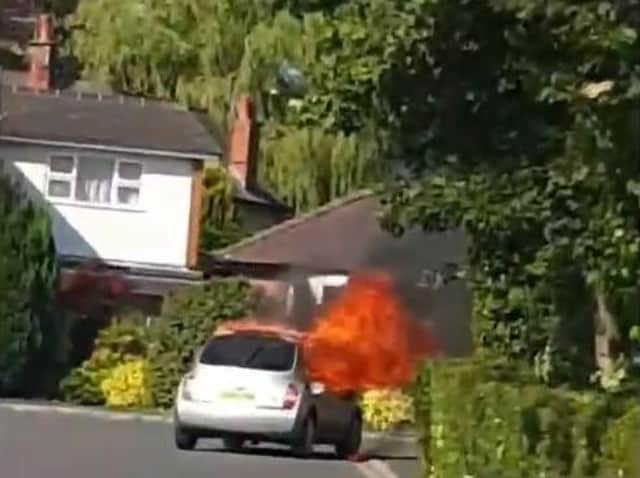 The Nissan Micra on fire in Glenway, Penwortham yesterday (July 31)
Dan Dixon, 32, had been driving along Golden Way in Penwortham at around 8.45am yesterday (July 31) when he spotted a Nissan Micra driving erratically.
The YouTuber, who produces and stars in a travel/adventure series Exploring with Fighters, became concerned after the Nissan was involved in a near-miss with pedestrians.
Dan immediately reported the car to police and began pursuing the Micra in his Nissan Skyline GTR whilst filming it on his phone for evidence.
Police at the scene in Glenway, Penwortham yesterday afternoon (July 31)
"I saw it driving erratically and I called police and gave them the details, but I was worried that it might take a while for them to track it down", said Dan.
"So I decided to follow it myself and keep my eyes on it to help the police."
Dan's dramatic footage shows the grey Micra weaving in and out of traffic before crashing into a lorry at the roundabout near Booths in Golden Way.
But instead of stopping, the damaged Micra can be seen continuing through the lights before the footage cuts to Booths car park, where the Nissan's four occupants can be seen checking on the wrecked car, with smoke rising from its bonnet.
Dan Dixon, from Preston, is an adventure travel vlogger with his own YouTube Channel 'Exploring with Fighters'
The footage then cuts to Glenway and Hurst Park, a quiet cul-de-sac off Cop Lane, where three young men and a young woman are detained by police officers.
As the officers wait for back-up, a loud explosion can be and the Nissan Micra bursts into flames.
Dan said: "All credit to the police for doing such a good job, they handled it really well. And the fire service deserve credit too, they were at the scene within minutes.
"I'm just glad that I could help the police find them because who know's what could have happened if they'd carried on driving around?
Officers detained three young men and a young woman in Glenway, a quiet cul-de-sac off Cop Lane, Penwortham. Pic credit: Dan Dixon
"It was a tragedy waiting to happen."
Lancashire Police and Lancashire Fire and Rescue Service have been approached for comment.
You can follow Dan Dixon's extreme adventures at some of the world's most mysterious and dangerous places here.