Preston armed robber who threatened to kill shop worker and her son is jailed
A thug who brandished a pickaxe handle at a mum and son as he robbed a Preston shop has been jailed for four and a half years.
Saturday, 25th July 2020, 7:00 am
Ashley Riding, 34, of Greenlands Grove, Fulwood, Preston, waved the weapon as he told shop supervisor Michelle Robinson and her son, Mark Winder: "If you don't open the safe I'm going to f***ing kill you.
Wearing balaclavas, Riding and an accomplice smashed through the door of McColls on Ribbleton Avenue at around 6.30am on March 30, as the victims prepared to open up the store.
The terrifying seven minute ordeal was caught on CCTV footage which was played during proceedings at Preston Crown Court.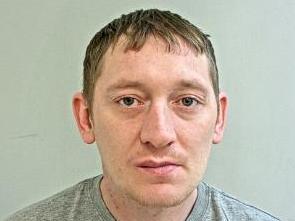 Ashley Riding
The robbers stole cigarettes, around £1,500 and alcohol, but as they left police arrived and chased them down Derry Road, Preston, and Riding hit a police car with the weapon.
Peter Barr, prosecuting, said a discarded balaclava had Riding's DNA on it.
He added: " In a victim impact statement Mrs Robinson said she cannot believe it's happened due to a previous robbery in 2019.
"She says: 'I feel anxious and afraid when I'm at work.'
"She cannot work alone and insists on having a male colleague present when opening the shop.
"She says: 'The incident has changed the person I am, I fear I will never feel safe again."
The court heard her son had also described feeling nervous, constantly looking behind himself, and that he had become reclusive."
Riding has 23 convictions for 39 offences, including causing death by dangerous driving.
Defending, Andrew Scott said he had made a "full and frank admission."
Sentencing, Judge David Potter said: " They were petrified, more so because she had been the target of a previous robbery at that shop in 2019 and for that reason was equipped with a personal panic alarm.
"They barricaded themselves in the back office and managed to alert police.
"You, armed with a pick axe, ran to that back office and barged your way in, and in that enclosed space threatened both with the pickaxe. In that moment they must have been completely petrified."
"Meanwhile your accomplice was helping himself to racks of cigarettes and bottles of alcohol.
"The consequences have been profound for the victims, both continue to struggle by reliving the events that took place over those seven minutes, which to them would have appeared far longer."