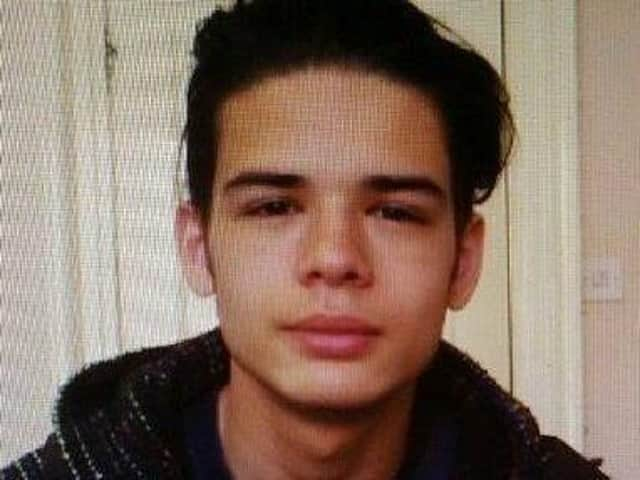 Michael Brooks
Michael Brooks, 19, was found dead on February 6, 2018, three weeks after he went missing from Avenham Park, having taken a hallucinogenic drug. Coroner James Newman concluded an open verdict on his death, meaning there was not enough evidence to rule on what caused him to enter the water.
Now Michael's mum Joanne Brooks, from Huyton, Liverpool, said she is "really, really angry" and intends to launch a formal complaint against the police, for their part in the matter.
She said: "The police have never done their job. We were telling them to check the CCTV, they weren't doing it themselves.
Joanne Brooks, pictured with her three youngest children during the search for Michael in 2018
"The CCTV from the Pavillion in the park they said they couldn't view on their (police) system. So why didn't they just watch it on the Pavillion's system?"
Ms Brooks also claims she had to force police to continue the search for her son and questions why witness statements from a woman texting Michael in the hours before his disappearance were not taken and used at the inquest.
Ms Brooks also called on Preston Council to improve lighting and CCTV around the park.
She said: "The lighting in the park goes off at 11pm and when that happens, you can't see your hand in front of your face. Many people are still in the park after that time.
"Then there's the CCTV. There's only a few cameras up in there. It can't be so hard these days to get some more cameras and run them off the lampposts. It's easy and cheap to do this sort of thing now."
On the open verdict given at the inquest, Ms Brooks said: ""It means that if new evidence comes to light, it will be re-looked at, and that's the best I could hope for.
"I need this appealing. I need people to really think about what they saw or what they know."
What Lancashire Constabulary has to say:
A police spokesman said: "We accept the open verdict given by the coroner at Michael's inquest.
"At the time of Michael's disappearance and the subsequent discovery of his body, we carried out a full investigation, however, we found no evidence of any criminality or third party involvement. At this stage there are no plans to reopen the investigation into his death.
"Michael's family are aware of our position and our thoughts remain with them."
Lancashire Constabulary declined to comment on issues of witness testimony, thoroughness of CCTV checking and searches.
What Preston Council has to say:
Councillor Robert Boswell, Cabinet member for environment and community safety, said: "We were extremely sad to hear of Michael's death two years ago and send our condolences to Michael's family as this continues to be such a difficult time.
"We want all residents and visitors to feel safe in Preston parks and thankfully these tragic incidents are rare. This is why we provide lighting between 5am and midnight as required to best serve the vast majority of our park users. However as an energy efficiency measure and to combat light pollution a decision was taken that the lights in parks are switched off for a short period throughout the night.
"While we appreciate CCTV could provide answers in tragedies like this, it is not practical to cover all park areas and to predict incidents happening. Also, the CCTV around the Pavilion is recording for review purposes only, and is not actively monitored.
"I can reassure you that the safety and wellbeing of residents and visitors to Preston is hugely important to us and a key priority in any decision making."