Celebrate Eid at home says Chorley Mayor Coun Hasina Khan
As the Eid celebration approaches this weekend Chorley mayor Coun Hasina Khan tells Fiona Finch what a Ramadan observed during the Coronavirus lockdown has meant to her and about the changes she hopes will endure.
Thursday, 21st May 2020, 3:45 pm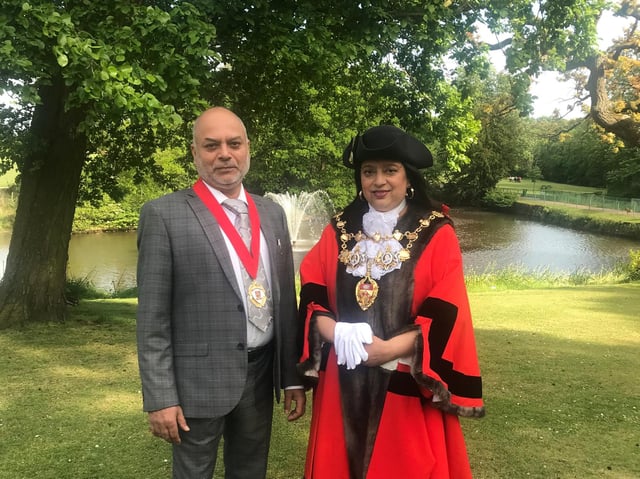 The mayor of Chorley Coun Hasina Khan and consort, husband Zafar Khan
For Chorley mayor Coun Hasina Khan this Ramadan has, she says, been the biggest challenge she has ever faced.
Set against a backdrop of mounting global concerns about the spread of the Coronavirus panademic it has been a Ramadan - the month of fasting and prayer like no other.
Mosques have been closed and communities in lockdown.
The mayor pictured with her husband, consort Zafar Khan, daughter Zara (also a councillor) and son Samir
This, said Coun Khan, has created a range of challenges and forced Muslims to confront without other distractions the challenges of the holy month.
Now as Ramadan nears its end and communities prepare to celebrate Eid in a very different way too, she is taking away some valuable insights which she hopes will have a lasting impact on her own and her family's life and the wider community's.
Coun Khan said: "I think it's the biggest challenge I have ever faced."
Comparing British families to those overseas in India, Pakistan and Bangladesh she said :"Normally Ramadan to me is thinking of those who are less fortunate. We're in lockdown, but we're in luxury if compared."
The sun up to sun down fast had been hard, but it has, she said brought her family together when they break their fast and she hopes that such family meals can continue, despite busy lives: "It's brilliant it's got the family all round the table."
Her husband Zafar is a taxi driver in Wigan, her son Samir teaches in Bolton, one daughter Zara is a midwife at Royal Preston Hospital and their youngest Shaistha is a social work student and part time carer.
She said: "There's work and diaries - now we've all got time for these important things. Most people didn't know who their neighbours were until we had a lockdown. We all come together on Thursday night at 8pm for a big clap - my kids are always shouting (at me) stop making so much racket! We ask each other how are you, do you need anything?"
It had, she said, underlined that even when there is such a health crisis the important thing is: "How you overcome it and how you support one another, that's important. And how do you face the issues you have every day? It's one of the challenges we face."
Fasting in Ramadan is one of the five pillars of Islam and Coun Khan has fasted each year since the age of 11. The 30 day fast means no eating or drinking during daylight hours. She said: "It's spiritual and it does your health a lot of good. It's routine as well. After the first five days it does get easier. You feel more energised after those 30 days. You do feel empowered. It kickstarts your body into shape.
"To get through Ramadan and long hours of fasting is to have will power and think of those less fortunate around the world and try to give to charity very generously. I love Ramadan - the family and community unity is really welcomed."
Sometimes colleagues at the council fast for a day or two in solidarity with Coun Khan and she said: "It's nice to have an insight into other people's religion."
This is something she has been determined to acquire during her year in office as mayor. She said: "I celebrate all faith festivals. I'm multi faith."
Charitable works are also expected in Ramadan. She has, she said been helping with local Food Banks and her family has also taken a private initiative - to leave food parcels on the doorsteps of those they know are in need. She said: "Wherever help is needed I've reached out and the Muslim community are volunteering quite a lot."
She noted that the local Muslim community had been helped in Ramadan by members of the the local Mormon temple - the Preston England Temple of The Church of Jesus Christ of Latter-day Saint at Chorley, who had provided dry goods for food packs for the elderly, vulnerable and housebound.
She said getting food to such people had been essential..:"It's a big challenge to be honest. None of the family members can help because they can't go to each other's houses."
She stressed across the faith: "community unity has been absolutely fantastic."
Seeing all who have stepped up to help in different ways across the county, country and world amid the pandemic she noted: "So many people have come together as one big family. Everyone out there is helping one another...I feel it's like a chain...I think God works in mysterious ways."
She has one criticism - that many Halal food prices rose enormously during the first weeks of lockdown. In contrast she noted some supermarkets had excellent pre-Ramadan offers. She said: "They were doing Ramadan packages at very fair prices."
Now as the Muslim community prepares for the Eid celebrations the mayor is keen to remind people these cannot be the usual community celebrations. She said: "We've to follow Government advice. I've spoken to as many peoples as I can. They can't go to the mosque on Eid. I've explained it's for your own personal safety - this is the year to do it with your families. We have to change. My entire family live in the street, (they are) across the road but we will only be waving from our doorsteps."
Coun Khan added: "The Eid ul-Fitr celebration is saying goodbye to Ramadan (the holy mouth of fasting dawn to dusk) and it is believed that this is the month in which the prophet Mohammed got the first revelation of the holy Quran."
Reflecting on Ramadan in lockdown she said: "Times like this you can find something positive. It's given people time and togetherness and insight on what life is really about. It's made a difference to me and my family. I've missed the day to day (busyness). At the same time in terms of as a person I think I've grown more empathetic to people's situations. It's made me an even better person that I thought I was before."*