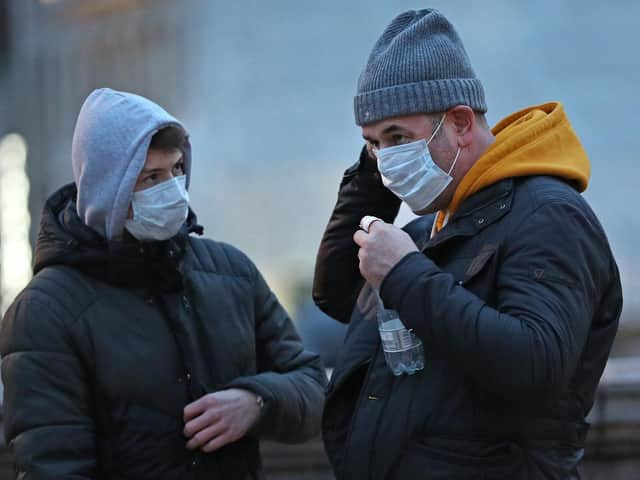 The number of coronavirus cases has reached 89 in Lancashire
The new figures came after the Prime Minister said the UK is "coping very well indeed under the most challenging possible circumstances".
NHS England said tonight that a further 28 people, aged between 47 and 93, have died after testing positive for coronavirus in England, bringing the total deaths in the UK to more than 460.
In Lancashire, there are now 89 cases, up from 81 yesterday, with 78 in the Lancashire County Council area, eight in Blackpool and the first three cases in Blackburn with Darwen.
The 47-year-old did not have any underlying health conditions, NHS England said.
Earlier, Boris Johnson said the Government was "massively ramping up" testing for coronavirus, as he announced that 405,000 people have now signed up as volunteers to help vulnerable people.
He said it was hoped that "very soon" 250,000 tests would be carried out each day.
Speaking at the daily press conference inside Number 10, he added that he wanted to offer a "special thank you to everyone who has now volunteered to help the NHS.
"When we launched the appeal last night, we hoped to get 250,000 volunteers over a few days.
"But I can tell you that in just 24 hours, 405,000 people have responded to the call.
"That is already, in one day, as many volunteers as the population of Coventry."
The figure was given as the Foreign Office announced that Steven Dick, 37, the deputy head of mission at the British Embassy in Budapest, had died after contracting coronavirus.
Earlier Clarence House announced that the Prince of Wales, 71, was self-isolating at home in Scotland with his wife, the Duchess of Cornwall, 72, who does not have the virus.
A statement said Charles had "mild symptoms" and the couple had received tests on the NHS in Aberdeenshire after meeting the requirements for testing.
During the press conference, England's chief medical officer, Professor Chris Whitty, dismissed claims made earlier by Professor Sharon Peacock, director of the National Infection Service at Public Health England (PHE), who said members of the public will be able to carry out coronavirus antibody tests at home very soon.
She said 3.5 million tests, which will tell people whether they have had the virus, would be made available and distributed via Amazon and in places like Boots.
But Prof Whitty said members of the public would not be buying these tests via the internet next week.
He stressed that frontline NHS workers would need the tests first, so they could get back to work if they have had already had the virus.
The NHS is also carrying out separate tests to see if people currently have the virus, which are being given to patients in hospitals alongside some community sampling.
Earlier, NHS England's medical director, Professor Stephen Powis, said hundreds of thousands of these tests for Covid-19 per day could become a reality within weeks.