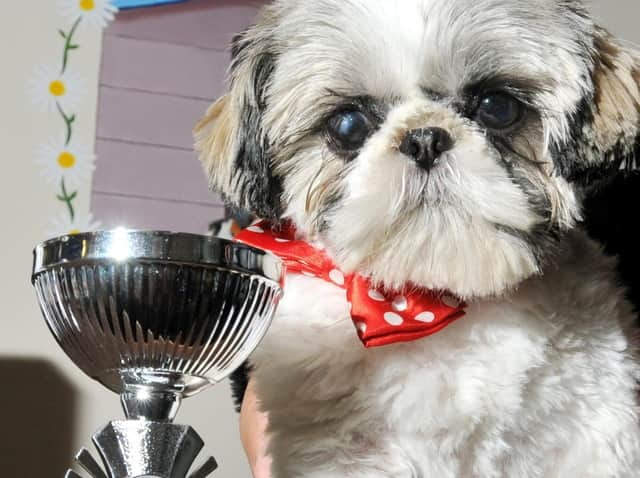 Pet Poser Trixie ... the winner of our competition in 2019
If you are the proud owner of a gorgeous pet, then take it along to Superpet Warehouse, Ribbleton Place, Preston, PR1 5AT between Wednesday February 26th through to Sunday March 1st, from 10am to 4pm, to have their photograph professionally taken.
No appointment is necessary and entering the competition is absolutely free of charge.
All pets are invited to take part, from cute canines to cool cats, fluffy rabbits to handsome hamsters. You could win some perfect pet prizes, including a portrait courtesy of Red Frog Photography, plus a trophy and a £100 gift card courtesy of Superpet Warehouse.
Will your pet be a winner in our 2020 Pet Poser competition?
All pet photographs will be featured in the Lancashire Post, where readers will vote for their favourite pet!
Remember these dates for your diary for the chance for your pet to win the coveted prize of Lancashire's Pet Poser 2020.
Usual Lancashire Post competition rules apply. For further information call the Promotions Team on 01253 361844.
A word from our sponsors: Superpet Warehouse
Superpet Warehouse in Preston, the sponsors of Lancashires Pet Poser 2020
Superpet Warehouse is Preston's longest established independent pet store.
Founded in 1983 by Dave & Sue (still working today) we are a family business with three generations of family working within the store.
Located in Ribbleton Place (just off Ribbleton Lane), we are proud members of the Ribbleton business community.
Formerly just around the corner in Catherine Street we relocated to these "new" premises 10 years ago this year!
Do you have a cute canine, cool cat, fluffy rabbit or handsome hamster!
We specialise in high quality natural products and supply foods and accessories for all domestic pets.
We don't keep any livestock, but instead prefer to point customers in the direction of rescue centres, local breeders or other trusted pet stores.
Our friendly staff are always available to offer advice and are there to help load bulky items into your car.
Many changes have occurred in the pet food market over the last decade with an emphasis on natural, high quality foods.
Foods which were considered the best 10 years ago have been overtaken by new ones offering better quality and greater health benefits. Our staff are always on hand to guide you around the Pet Food Maze.
In recent times we have seen an increase in raw feeding for dogs and cats and this is particularly well catered for within the store.
Reptile keeping is also becoming increasingly popular and we provide great value foods and accessories to suit all species.
Our ever-evolving website www.superpetwarehouse.co.uk is always on hand for further information, and we can of course be contacted by phone 01772 791900 or many social media platforms.
We look forward to welcoming Karen from Red Frog Photography into our store along with customers new and old, and of course your many photogenic furry friends! Say Cheese!