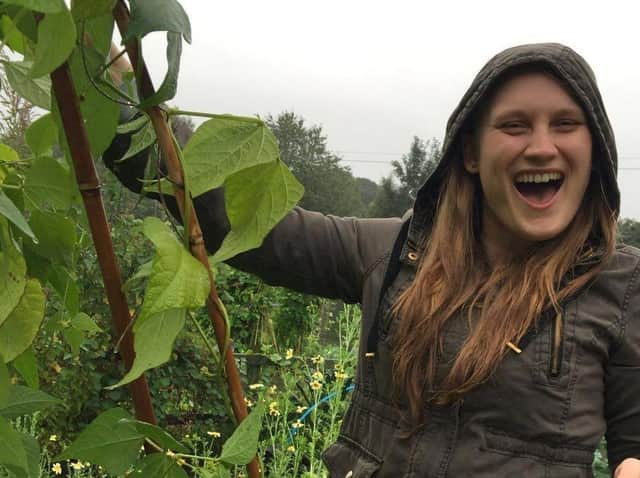 Victoria grows her own produce from her back garden in Ribbleton.
Her business 'Grow Your Groceries' began a short 12 months ago and aims to encourage people to make their first steps towards growing their own vegetables.
Before starting her gardening scheme, Victoria had been left homeless, but her upbringing at her family allotment kept her passionate about controlling what she eats.
"Growing up, I was so used to going to the allotment and just picking what I wanted for dinner. That was just how we lived, and it wasn't until I left home that I really appreciated it," said Victoria, 26.
"I realised that everything you buy from the supermarket just tastes the same and isn't as nutritional as produce you can grow yourself because the soil has degraded. It made me realise how fragile the supermarket chain is.
"I am still in the process of building my garden at home, meaning that by next year we will have self sufficiency in vegetables. I want to be able to help other people do the same."
The lockdown restrictions meant that Victoria, from Ribbleton, could continue to live more sustainably whilst helping people in Lancashire to make their first steps into the land of growing.
Her newest proposal 'the instagarden' was set up through the small businesses loan at Lancashire County Council, and gives families the opportunity to begin growing from their own portable vegetable patch, hand delivered to their doors by Victoria herself.
Victoria, 26, uses her back garden as a space to live self-sufficiently.
She claims the start-up project requires less than ten minutes of attention each week, so even the busiest of families can start growing from their own back gardens.
"When coronavirus first kicked in, I was able to put my money from the furlough scheme back into the business. I realised that most families didn't know where to start and wanted to be able to give their children experience in growing produce, as well as healthier and better foods," she said.
"It's great for families to get involved with this during lockdown and it has sent my sales a little crazy. All they need is a watering can and ten minutes a week.
"It does what it says on the tin really. It's an instant garden delivered to your front door - from me in my little Ford Fiesta!"
Victoria pictured with some home grown cabbage.
Victoria, who has been used to growing her own food her entire life, said that the lockdown restrictions imposed because of Covid-19 have been both "grounding and comforting" in such uncertain times.
Her website and Youtube channel advise other families on tips and tricks on ways to begin their own gardening scheme, such as the best vegetables to grow through autumn and winter months.
"No matter what goes on in the outside world, I always have my ground where I am able to grow tomatoes, cucumbers, peppers and other vegetables," she said.
"There is so much going on that we can't control right now, but it's amazing to know that I can control what food will be available in the coming months and what I can put on my plate. I want to show people that it is a great feeling being able to take pride in something you have produced.
"I'm viewing the experience as a positive because I have seen so many other families and households use this time to get into their gardening. It has given me so much hope. When I am in my garden, nothing else matters."
Find out more information about Victoria's blog and 'Instagarden' scheme from growyourgroceries.co.uk
Her Youtube channel can be visited at YouTube.com/Growyourgroceries