Popular Penwortham playground to be closed for three months while refurbishment takes place
Hurst Grange Park playground in Penwortham will be closed for three months from Monday.
Friday, 22nd January 2021, 12:30 pm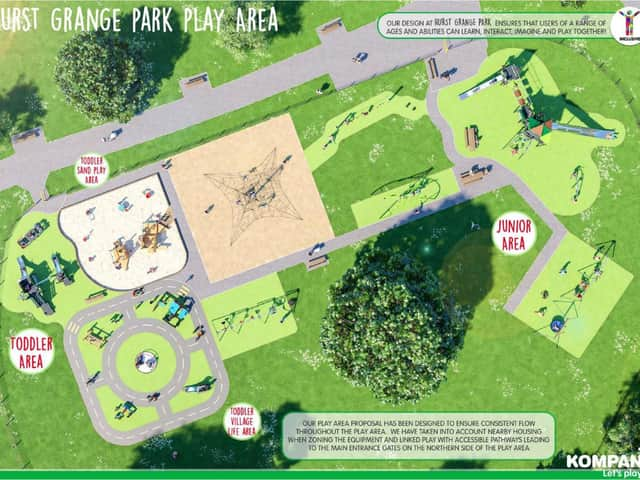 A plan of how the site will look once complete. Courtesy of South Ribble Borough Council
The closure is to allow major improvement works to take place, with the site being completely re-figured and new equipment installed.
The popular net climber and group swing will be retained alongside a range of new equipment – including a large junior slide and a 'toddler village' with roadways for bikes and trikes.
There will also be new paths and seating.
An artist's impression of how the playground will look. Courtesy of South Ribble Borough Council.
The playground at Hurst Grange Park is one of three play areas within the borough undergoing refurbishment.
Bellis Way, Walton-le-Dale and Haig Avenue, Leyland have also received funding for improvements as part of South Ribble Borough Council's refurbishment programme.
Councillor Susan Jones, Cabinet Member for Environment, said: "We're really pleased to be able to make improvements to the Hurst Grange Park Play Area. This is part of the Council's drive to improve a number of play facilities across the borough.
"Play areas are really important to South Ribble. When Covid-19 guidance allows, we want our children to be able to be active and have fun in a safe and clean environment.
The old play equipment in the park
"The new equipment is being added to Hurst Grange Park Play Area following consultation with local residents last July and we hope kids and parents alike will be pleased with the results."
Though the playground will be off limits until early summer, Hurst Grange Park itself remains open and is also set to benefit from refurbishment of the historic Coach House following the successful National Lottery Heritage Fund bid last year.
Works include a new visitor centre, public toilets, community space and a small café. The Coach House is expected to open later in the summer.
>>>Click here for more information on the Coach House work
The swings will be getting an overhaul