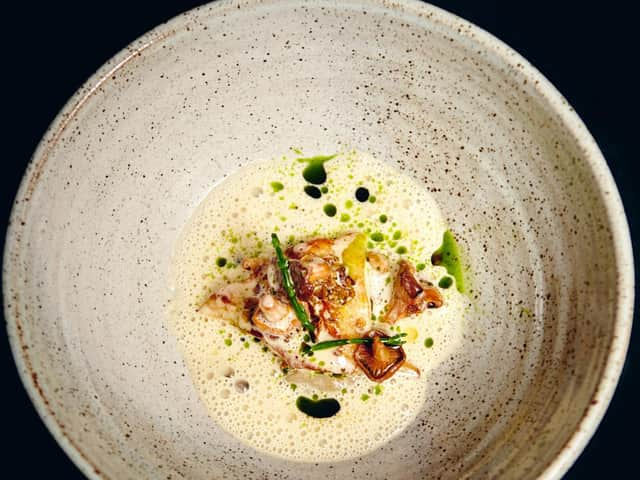 Mark has praised 25-year-old chef Charlie Yates
The 263 restaurant, which operates out of the Winckley Square Hotel in Camden Place, opened in September with owner Mark O'Rourke stating: "We go in with Rosettes as our aim".
Inspectors made a surprise visit to the restaurant on Friday, January 17, and discussed with Mark and chef Charlie Yates what they could expect.
When results were announced, the restaurant has been given two AA Rosettes, which, according to the judges, recognises "Excellent restaurants that aim for and achieve higher standards and better consistency.
"A greater precision is apparent in the cooking, and there will be obvious attention to the selection of quality ingredients."
Mark O'Rourke, already the owner of The Otter's Pocket pie and ale house and Fino Tapas in Preston city centre, said: "It was a surprise to be inspected by AA and we are honoured by the award and recognition less than four months after opening.
"I have to thank our head chef Charlie, it's a vocation for him, not a job, he is a supremely talented chef. He is only 25 years old and some chefs don't achieve rosettes in a lifetime.
"Charlie and I are very ambitious, we have set a benchmark we must maintain and it's important we don't take our for off the gas."
Charlie said: "I'm absolutely over the moon, it's a big achievement in such a short period of time. Hopefully we can really focus on what we do in the next 12 months and get to three rosettes and look to get noticed by other guides in the industry."
263 currently offers a three-course lunch menu for £25 and a five-course tasting menu for £40.
In the evening a three-course meal is £35 and a seven-course tasting menu is £60.
The last person with two Rosettes in Preston was Paul Heathcote and 263 is the only restaurant within eight miles of Preston with two, and one of only eight restaurants in Lancashire with two.
Around 40 per cent of restaurants/hotels within the AA Restaurant Guide have two Rosettes.
Success or failure in achieving Rosettes is based on one or more visits by an AA inspector to a hotel or restaurant.
Essentially the visit is a snapshot, whereby the entire meal, including ancillary items (when served), is assessed.
AA Rosettes are solely awarded by hotel and restaurant Inspectors, and external influences from hotels, restaurants or other guides are not taken into account. About 10 per cent of restaurants nationwide are of a standard that is worthy of one Rosette and above.