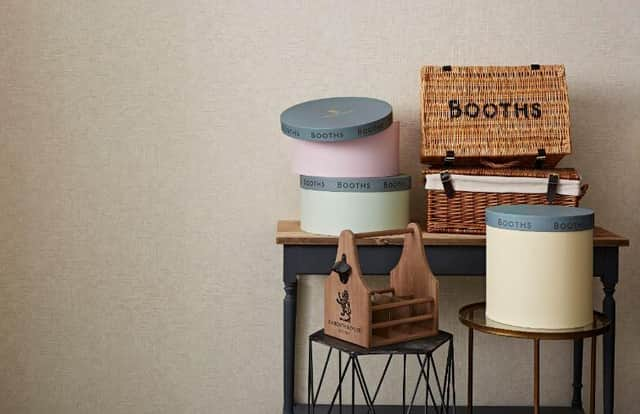 Treat someone to a marvellous Booths box
If Christmas offers anything it's the perfect excuse for a little indulgence – or even a lot.
This year, more than ever, we're all looking forward to the festive season, with excellent food and drink forming part of our celebrations. And Booths, synonymous with quality, has created exactly that.
As well as an amazing selection of delicious food and drink, customers can also stock up on the kinds of presents that will have friends and relatives reaching for more. They'll think warmly of you while they tuck into hand-picked, locally sourced delicacies. With such a wide variety there is something for everyone's taste.
Who doesn't love Christmas biscuits?
Even better, Booths adopts the same local sourcing policy to its gifts as it does to everything else, as buyer Emily Burr explains: "When lining our shelves with gifts this festive season, I had to look no further than our local suppliers.
"This year, our customers can choose from our locally brewed Lancashire and Cumbrian Beer Boxes or our Three Waxed Present Cheeses, handmade at Singletons Longridge Dairy."
"I think food gifting should be on the top of everyone's list this year and with a new and exciting selection of locally sourced gifts to choose from, we're sure to help our customers get Christmas all wrapped up!"
Top of the pile when it comes to foodie presents must be the magnificent hamper. You know what your loved ones like so they can receive a present with your personal choices for them. As they say, 'it's the thought that counts'!
This Christmas, Booths have a fabulous range of empty hamper boxes that will allow you to send a truly personal gift, from a coloured hat box at £5 to a traditional wicker hamper for £9. So why not build your own hamper for someone special and fill it to the brim with their favourite Booths goodies?
The family-owned and operated independent supermarket with stores across Lancashire, Yorkshire, Cumbria, Cheshire and Greater Manchester has once again excelled itself this year for Christmas food and drink.
It's all there in the beautiful Booths Christmas book, available in store or online, featuring amazing platters, succulent meats, party foods and delicious puddings all from local suppliers and further afield.
What's more, Booths has just won the Wine and Spirit Retailer of the Year Award. That's great news for those sensible people who really just want booze in their Christmas stockings.
While stocking up the drinks cabinet is an essential part of any festivity, there's no doubt that Booths has lots of local tipples for you to choose from! Nestled in the heart of the Lancashire countryside, the team at Cuckoo Gin have a set of miniatures available in a gift set (£15) which includes Signature Gin, Sunshine Gin and Spiced Gin.
Or maybe you know someone who would like to blend their own whisky with a set from Chivas. For any whisky lovers in your life, here is the ultimate gift: the Chivas range of blends famously bring together Scotland's A-list single malt and grain whiskies to create something truly unique. Now whisky lovers can create their signature blend from the comfort of their own home (set costs £15).
Of course, there are still some old favourites available. The company led the way in the UK's real ale revolution and still does not disappoint. The handy Lancashire beer box (£12) includes Bowland Hen Harrier, Moorhouses Blonde Witch, Lancaster Blonde and Bowland Pheasant Plucker. All familiar names for the real ale lover.
The indulgence continues with tea and luxury biscuits, products for which Booths has long been famed. Floral Royal Horticultural Society (RHS) floral-patterned stacking boxes contain a selection of afternoon tea-style treats, including classic English Breakfast tea bags, delicious fruit and lemon biscuits, and indulgent fudge (£10).
Booths is also offering a wonderful selection of Grandma Wilde's decorative tubes, filled with a variety of delicious crumbly biscuits perfect for dunking; another delightful gift.
For those that love shortbread, the Steven Brown Art tins on offer in store are filled with Dean's light and crumbly all butter shortbread. A real treat for the taste buds and a beautiful tin to keep (£12 for 500g or £6.85 for 160g).
Pop into your local Booths store for more festive gifting inspiration and find everything you need for a wonderful Christmas to remember.