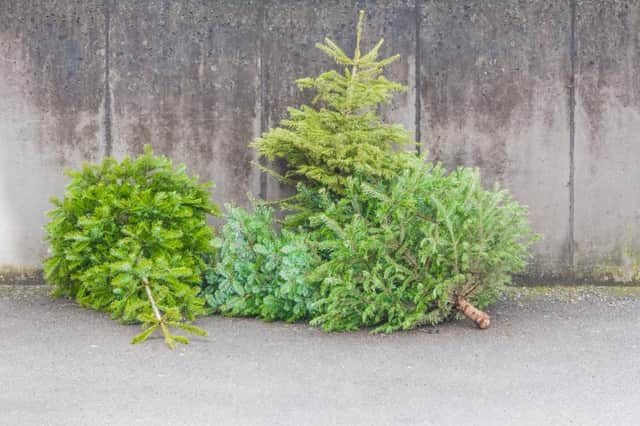 It is easy to arrange for your Christmas tree to be recycled in January (Shutterstock)
A few weeks after painstakingly putting up your Christmas tree and making sure your meticulous decorating is near-perfect comes the time when it needs to be taken back down again.
Dismantling the tree in January is always a sad moment as it symbolises the end of the fun festive period - and a return to work for most people.
Fortunately, there's one good thing that can come from taking down a real Christmas tree, as you are able to easily recycle it so it doesn't go to waste.
They can be shredded into wood chippings which are then often used in parks and woodland areas, or turned into compost.
Arranging a collection is totally worth it, as disposing a real Christmas tree properly can reduce its carbon footprint by up to 80 percent.
You may have spent hours lovingly decorating your tree, but at some point it's got to go - so here's when you can get it picked up over the festive period.
How can I recycle my tree in Preston?
In the UK, most local councils will collect Christmas trees as part of their regular rubbish collection, but different councils have different requirements for this.
Preston City Council will collect trees free of charge for those subscribed to the garden waste collection.
To have your tree collected, chop it up and put it in your brown bin and the council will collect it on your scheduled brown bin collection day.
After Christmas, garden waste will be collected again from Monday 11 January.
Trees which do not fit in your bin should be placed next to your bin by 7am on your normal collection day.
For those who have not subscribed to garden waste collection, you can have your tree collected by applying on the Preston City Council website, at a fee of £5 per tree.
All you need to do is fill out the subscription form, which takes roughly five minutes to complete.
When will my tree be collected?
You can then select one of the following dates from the council website for your Christmas tree to be collected:
- Thursday 7 January 2021
- Tuesday 12 January 2021
- Thursday 21 January 2021
- Thursday 11 February 2021
The council asks that you ensure your tree is placed outside your house at your normal collection point by 7am on the day of the collection.
There is also a maximum of 20 collections per date - so make sure you book a slot early on.
What other Christmas items can be recycled?
Other Christmas items can be recycled too, so you can further reduce your carbon footprint.
That includes recyclable Christmas wrapping paper, cardboard boxes from packaging, Christmas cards with glitter or bows removed, and clean tin foil from Christmas food like turkey and mince pies.
These can all be recycled if you place them in the appropriate bin for collection.