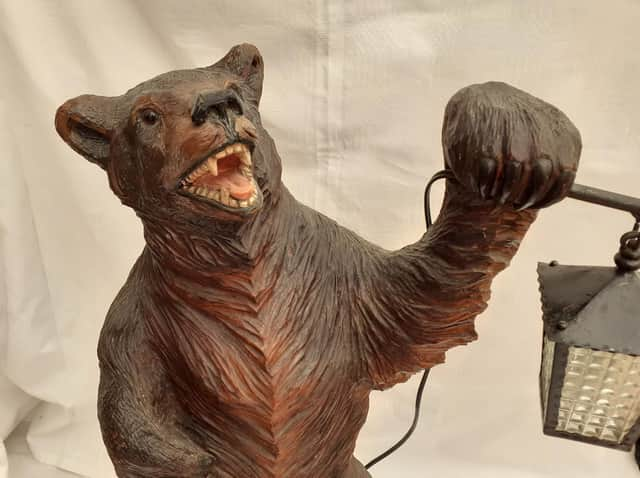 This splendid bear is a good example of Bavarian Forest Ware
To borrow a term from stone carving, are you feeling chipper today? If not, spare a thought for the Venus de Milo. Today, April 8 is 200 years since she was rediscovered, buried in pieces, on the Aegean island of Melos.
Carved from marble around 150 BC, she is generally thought to represent Aphrodite, the Greek goddess of love and beauty. She was presented to Louis XVIII, and donated to the Louvre in 1821. An imposing 6 1/2 feet high, the statue's arms were never found, but she is truly stunning.
Classical statues originated in temples, gradually moving into the palaces and grand houses of the very wealthy. The British began shipping them back from the Grand Tour in the 18th century.
Expensive, bulky, heavy and hard to move; statues are still a relatively rare investment. Usually limited to the garden, they can look stunning, surprisingly so even in a small plot.
We don't get many really big statues in the centre but be assured, they always make me jump out of my skin when I'm pottering around out of hours! Good places to find them are specialist auctions or house sales, and reclamation and architectural salvage yards.
Aside from cost (at least several hundred pounds, often tens of thousands), provenance can be tricky.
A trade secret among many professionals is Coade stone, an 'artificial stone' created in the 1770s. Affordable and hard-wearing, it offered new opportunities for fine-detailed decoration in moulding.
After a hiatus from 1840 to the 1990s, the company was restarted, and new Coade stone pieces can once again be commissioned. Original 18th century Coade pieces are very rare, and fetch thousands of pounds.
Also rare these days are good quality carved wooden sculptures; this splendid bear is a good example of Bavarian Forest Ware. In the 1800s Swiss wood carvers based around the town of Brienz became world renowned. First collected by Victorian travellers, then exported all over the world, the carvings became a symbol of luxury and wealth.
Many had a practical use, such as supporting a seat; my bear has been a loyal lamp-carrier for many years. While he takes up considerable room, I would not part with him. To be honest, as with most statues, I'm not sure I could actually lift him!