VJ Day memories of a boy soldier who devoted his life to Lancashire
To mark VJ Day Dorothy Rozier Parker pays tribute to her uncle, a proud Lancashire soldier who was held captive in the Far East
Friday, 14th August 2020, 5:09 pm
Updated
Friday, 14th August 2020, 5:12 pm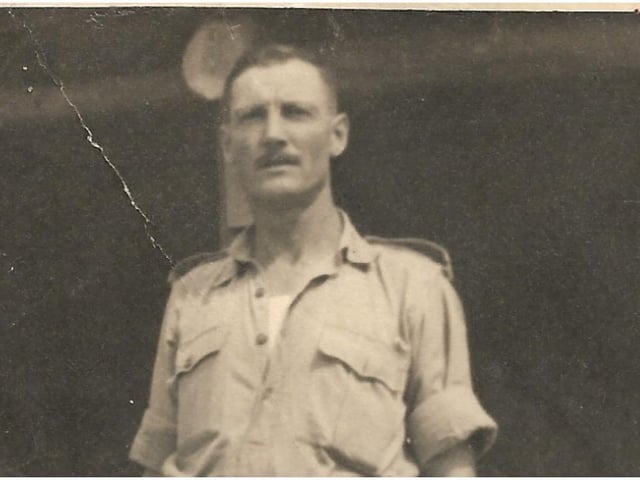 Edward Rozier in Bombay in 1942
Edward Rozier was a career soldier who joined the Loyal North Lancashire Regiment in 1919 and served for 31 years and 354 days.
He came from a family of 10 sisters and two brothers, one of whom was another regular serving in the Second World War and the other one was in the Royal Flying Corps.
Edward's father was a regular soldier who served in the Royal Artillery as a Gunnery Sergeant and later became a Chelsea pensioner.
Edward and Martha Rozier with their children David, Barbara (left) and Maureen (centre)
Edward lived in Aldershot and ran away from his family to join the Loyals as a boy soldier aged just 15, signing up while the regiment was stationed in the town.
Initially he joined the regimental band until he reached the age of 18 when he transferred over to the rank of private.
He first saw service in Malta and the Greco-Turkish War in the early 1920s then redeployed to Peking as part of the Peking Legation Guard before finally returning to England in 1928 .
Once in England Edward trained in musketry, machine gun instruction and became a member of the regiment's musketry team winning the Kimberley Medal for shooting and representing the regiment at Bisley Shooting School where he won a bronze medal.
Edward Roziers Japanese prisoner of war record
In 1938 he joined 1st Battalion and in September 1939 was part of the British Expeditionary Force fighting in the battalion's retreat to Dunkirk where he disembarked on one of the final two destroyers to leave for England.
Edward recalled when he was swimming along a canal under enemy fire with a large doll in his back pack which he had purchased for his daughter and talked of being aware of bullets firing into the water and whistling over his head. In 1940 he was made Regimental Sergeant Major for the 18th Battalion (initially the 5th) and embarked for Singapore in October 1941 arriving midway through the siege of Singapore and was to face another challenge for survival.
The ship they travelled on, HMS Empress of Asia, was attacked and hit 10 miles from harbour forcing those onboard to abandon ship without their arms and equipment. Singapore fell and the allied forces were taken prisoner by the Japanese. According to Edward's Japanese prisoner record card this was on February 15, 1942.
There followed three hard years of captivity initially there was a state of equilibrium, although conditions were harsh and prisoners were put to work on the rebuilding of Singapore.
From October 1942 things began to change with prisoners being taken away from Singapore to work on the infamous Burma-Thailand railway. For other prisoners they worked in Korea in mines, shipyards, building runways and air raid shelters. Many prisoners of the Allied forces from the Commonwealth died from overwork, disease, malnutrition and starvation and often more prisoners were sick than able to work. Some were simply murdered.
Conditions were the same for the local population who were put to work in slave camps. Edward spoke of nearly being beaten to death when trying to protect a comrade and without the medical help of the local village priest he would almost certainly have died.
Returning to England on November 9, 1945 Edward never recovered enough to continue serving his beloved regiment and he was invalided out of the Loyals in August 1951 due to poor health.
In between deployments and Aldershot he had been quartered with the regiment at Fulwood Barracks and it was in Preston he met his wife Martha Ellen Buckley.
The couple married on December 12, 1929 and had three children, David, Barbara and Maureen. After his military career the Roziers settled in Tower Lane, Fulwood, Preston, but he was often bedridden resulting from his treatment in captivity.
While he was ill, and at times in hospital, members of the regiment would call at his home and help his wife with the smallholding and household chores, a gesture which in itself was a testament to how he was regarded by his fellow soldiers.In 1951 members of the regiment took a Christmas party to his bedside.
With his health problems Edward died in the December of 1954 ever a loyal comrade and a Loyal soldier to the end. Edward was a large man who held his presence in company and you knew he would take charge. He was very much like his father, a total military man.