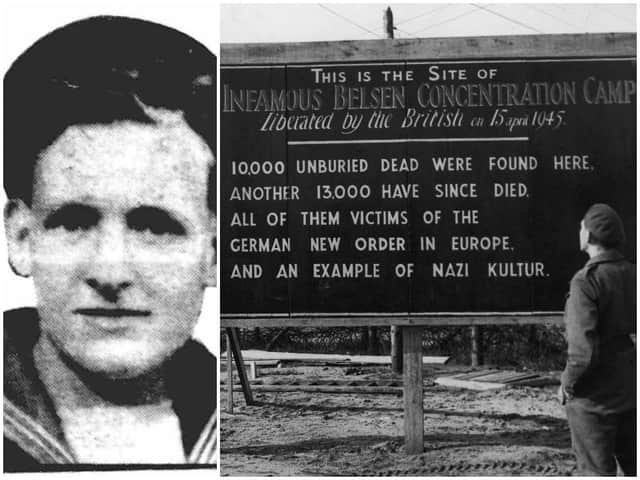 Keith Mayor is believed to be the only British serviceman murdered at Belsen
The men of No.14 (Arctic) Commando would then flee undetected to a small island off the Norwegian coast and await their rescue by British forces. Among the raiding party taking part in Operation Checkmate was 19-year-old Able Seaman Keith Mayor, of Margaret Road, Penwortham.
The commando had been formed in late 1942 to conduct operations against Nazi forces inside of the Arctic circle following a request of the Chief of Combined Operations Headquarters Louis Mountbatten. Their role was to target the Kriegsmarine and Luftwaffe bases in Norway, from which the Germans were attacking the Allied Arctic Convoys.
In late April 1943 the commandos were transported across the North Sea by motor torpedo boat to set up their operational base on the island of Bokn. The raiding party was left with a small fishing coble and their canoes. The plan was the motor torpedo boat would return when their task was complete to whisk them back to Britain.
British commandos in canoes off the coast of in Norway during the Second World War
They managed to sink a German minesweeper and a number of Nazi steamers were also reported to have been holed. Mission accomplished the commandos returned to their island hideaway but the Germans launched a search party on May 14 Able Seaman Mayor and his men were captured and sent for interrogation at Sachsenhausen concentration camp in Germany.
All involved in Operation Checkmate were captured in uniform and should have been treated as prisoners of war. However, in 1942 Adolf Hitler had issued a Commando Order which stipulated all captured commandos, no matter if they were in uniform or not, were to be executed shortly after interrogation
While at Sachsenhausen the captives were forced into breaking in German Army boots by marching 30 miles a day over cobblestones. However, it would be more than two years before Mayor's fate was to be revealed and with it his grim place in the history books written.
Mayor had been a mill worker at Vernon's in Penwortham before the war and was engaged to a local girl named Barbara Kerfoot. His tragic legacy was to become the only British serviceman believed to have been murdered at Belsen-Bergen.
Sachsenhausen concentration camp memorial to British and Commonwealth servicemen held there
In September 1945 the Nazi prison guards who ran the notorious concentration camp were sent for trial by a British military court at Lüneburg, in northern Germany. Chief among them was the camp commandant Josef Kramer, dubbed the Beast of Belsen for his brutal reign of terror.
One of the charges laid against Kramer on the opening date of the trial was that of causing the death of 'Keith Meyer, a British sailor'.It was further confirmation of his family's worst fears back home in Lancashire.
A Lancashire Post reporter spoke to Mayor's father John who told the paper, "I have no doubt at all that the Keith Meyer mentioned in the charge against Kramer, is my son, Keith, who the Admiralty reported was shot in a German concentration camp on the night of February 2 this year.
"Everything ties up. I understand my son was captured in Norway in a commando raid and he must have been taken to Germany. He was first reported missing, but in April we were told he was a prisoner. Then in June came an official intimation from the Admiralty that he had been shot by the Germans in a concentration camp. This was said to have been Sachsenhausen.
Belsen-Bergen Concentration Camp where Keith Mayor was shot in cold blood
"The Keith Mayor whose name appears in the charge against Kramer is also said to have been a sailor captured in Norway, and then taken to a German concentration camp. The coincidence is too remarkable not to be true."
The Admiralty stated at the time that there were apparently no witnesses to the shooting but the evidence from various sources was conclusive. With the Admiralty letter was enclosed a note, apparently scribbled by Keith when he knew he was to be shot which said, 'Dearest Mother and Father and all, all my love, and hoping you will not forget your only son. God bless you all, God save the King. Yours ever, Keith.'
Mr Mayor told the Post: "I never knew anyone with such a deep love of his country. I know he volunteered for some very risky jobs with Combined Operations, and his last leave was cut short because he had again volunteered for the hazardous operation from which he never returned.
"Keith was plain unlucky. I think he must have been taken to the concentration camp in mistake. Perhaps the Germans decided the best way to cover the mistake was to kill him. It is terrible that he must have been the only Englishman to have been killed in the camp."
Mr Mayor's theory was supported by Preston barrister Mr P Ingress Bell who was among the experts sent to Belsen-Bergen after its liberation to compile evidence and gather statements against the camp guards. He spent two weeks there and his findings were used in the case against Kramer and his co-accused.
Mr Bell told the Lancashire Post: "I heard Keith Mayor's name mentioned a lot while I was at Belsen and I understand that he was brought to the camp through some mistake. He was described as a paratrooper captured in Norway and I believe was the only survivor of his unit. The others were apparently executed out of hand but Mayor eventually reached Belsen.
"I believe he was actually shot by one of the block leaders. They were responsible for much of the cruelty that went on a Belsen. The man who actually shot Mayor was identified but I don't think he had been caught when I left the camp. So many of them got away and lost themselves in ordinary prisoner of war camps."
Among the evidence brought to the Belsen trial was the statement of an Austrian internee Rolf Klink who revealed Mayor was shot when he fell ill. In his affidavit he said: "I knew Keith Meyer when he came to Sachsenhausen Camp. When he arrived, he and at least three other English men dressed in uniform of the British soldiers were kept separate from the rest.
"I used to see him doing his marching. I and two others were able to approach them to bring them food. I speak English and we became friends. There was another one called Alfred Monroe, and these two men were the survivors of the English soldiers. Meyer and Monroe were forgotten at Sachsenhausen when the others went to transports.
"I used sometimes to organise jams for Meyer. When we were moved from Sachsenhausen to this camp, I suggested that he should be registered as Dutch, because then they would take less notice of him and we did this.
"Here he felt ill in the stomach and had a bad right foot. One night he said, 'Rolf I am so weak that I feel I have a high temperature.' The next day he could not get up and said, 'I feel I have got typhus.'
"Next morning we sent him to Block 17. I saw him every day. He asked me for jam and Swedish bread, and I got it for him. One afternoon I was called by Emmerich. He had two numbers and told me to find them, saying that they had forgotten to send these two for a transport.
"I called the chief of the blocks, asking them if they had people of this number. The chief of Block 17 said, 'He is here, but he has typhus.' So I went with him. It was then that I remembered that this number was Keith's number. I went back to Emmerich and told him, 'One number we have. The man is in hospital with typhus and cannot go.' He said, 'Is he very ill?' I said, 'Yes.'
"So Emmerich went away. At 10 o'clock in the evening I was told by Emmerich to get Keith Meyer. Emmerich went away and the new Unterscharführer waited. When the medical orderly was sent for Meyer, Meyer came back with him. The Unterscharführer told me to put down Meyer's name and date of birth. Meyer held my hand to support himself and whispered his name, date, month and year. Then the Unterscharführer went four or five steps to the door.
"Keith said, 'I know you love England. When you get there tell the truth.' That was all. We had often talked of going to England together after the war. England was my second country."
Max Markowicz, another internee, in an affidavit said he saw Mayor's body lying near the kitchen on a heap of straw with a bullet wound in the middle of his forehead. "The sentries were so placed that had Mayor been shot attempting to escape he could not have been shot through the forehead."
Markowicz said he was employed in making out lists of those who died. When he asked whose body it was, he was told to put it down as an unknown body.
"Usually when prisoners were shot there were many formalities but in this case there were none.
Two years after his death Keith Mayor was mentioned in despatches, his citation reading the award was for, "great fortitude and resolution while in the hands of the Germans from the time of his capture in 1943 to the time of his death in April 1945.
Keith Mayor's final wish that his family would not forget his sacrifice was granted. The year after his murder a poignant notice of remembrance was placed in the pages of the Lancashire Evening Post on what would have been his 23rd birthday. In it his Auntie Mollie and Uncle Jack said, 'We shall always remember him smiling.'
While his parents wrote, 'In proud and loving memory of our dear son and brother, Keith, on his 23rd birthday, September 27th, shot in Belsen, April 1945.
'Remembrance is all he would have asked from those who loved him.'