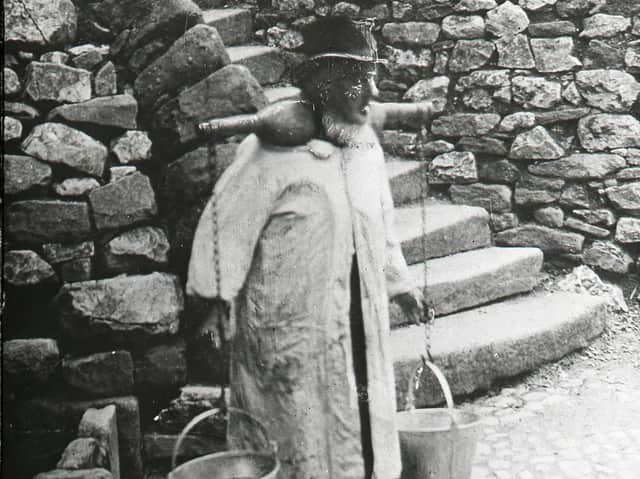 Collecting water at 'Slippy Slops'. (Riley Collection).
Settle: A Historic Market Town, by David Johnson, with a foreword by His Grace the 12th Duke of Devonshire, covers the town's history from its early origins with topics such as commerce, textiles, people and buildings.
David, who has researched and written extensively about the archaeology and history of the Yorkshire Dales, said: "Settle is obviously a small town but it has a long and rich history, some of it visible in the town's buildings, some in the surrounding field systems.
"There is always the danger that information is lost as time passes and this book was written to avoid this happening. It is a very personal book and I hope residents and visitors alike will enjoy reading it as much as I have thoroughly enjoyed researching and writing it."
Settle: A historic market town.
The book was part-funded by Stories in Stone a programme of community and heritage projects developed by the Ingleborough Dales Landscape Partnership, which is led by Clapham-based charity Yorkshire Dales Millennium Trust (YDMT) and mainly funded by the National Lottery Heritage Fund, thanks to National Lottery players.
Don Gamble, Stories in Stone Manager,said: "I'm delighted that YDMT has been able to support the publication of this great book. Settle is such a wonderful place, and David's fascinating book, by detailing its long history and the interesting characters who shaped it, helps us to understand and appreciate it even more."
The publication is full of interesting details and illustrations and will appeal to a wide audience.
The A5, 106-page book is available from local outlets and costs £5.
The 'necessaries' on Kirkgate. Picture by David Johnson.
It is also available online from www.ydmt.org/shop or https://retail.yorkshiredales.org.uk/.
Stories in Stone is a five-year programme of community and heritage projects.
It has been developed by the Ingleborough Dales Landscape Partnership with funding from the National Lottery Heritage Fund. The programme will enable people from all backgrounds and of all ages to learn about, enjoy and help manage the stunning limestone landscape around Ingleborough, both above and below ground.
It will include a wide range of projects and activities such as restoration of field barns, drystone walls and wildlife habitats. It will involve people in archaeological digs, digital archiving and collecting oral history. It can support local people and groups wanting to look after their local area, provide formal and informal training opportunities, offer new learning opportunities for local schoolchildren, and deliver events and activities to celebrate the local heritage. It will also improve physical and intellectual access to the area and its heritage features.
The Landscape Partnership is led by local charity Yorkshire Dales Millennium Trust (YDMT). It also includes the Yorkshire Dales National Park Authority, Yorkshire Wildlife Trust, Yorkshire Dales Landscape Research Trust, Natural England, Hanson UK and Tarmac Ltd.
Landowners, farmers, educational establishments, parish and district councils, businesses and local history and community groups are also involved in developing and delivering the scheme.
Find out more at www.storiesinstone.org.uk