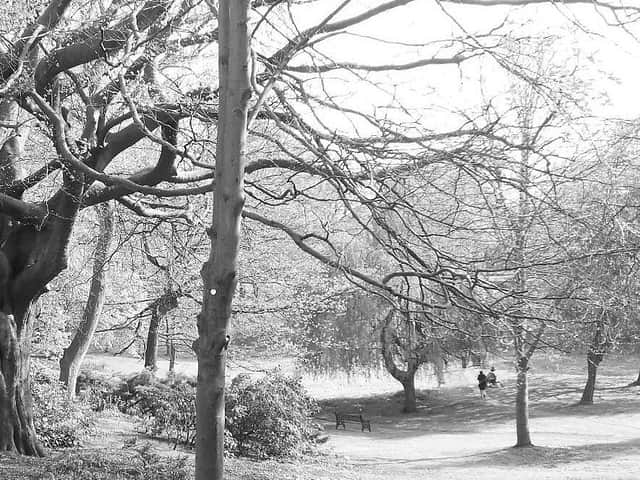 Danger lurked in the shrubbery of Winckley Square Gardens
On the first Monday of August 1946 Frederick William Collins, aged 40, a steel press operator, appeared at the Preston Borough Magistrates Court along with two Preston housewives,
Mary Shaw, aged 42, and Kathleen Malone, aged 36, on charges relating to a robbery in Winckley Square gardens on the previous Friday night.
The alleged victim was Cedric Hendren, aged 24, an ex-RAF man from Darlington. Appearing for the prosecution was Henry Fazackerley who described the crime as being mean and brutal. He submitted that there had been a conspiracy between the three accused to assault and rob the victim of his wallet containing £8 and other articles.
The prosecution claimed that the accused were in a public house in Church Street with Hendren generously buying them drinks and giving the impression he was not without money. At closing time Shaw had suggested she walk out with him and on a balmy summer's evening they strolled to Winckley Square gardens where according to Hendren the pair went into some shrubbery.
It was alleged that Collins then crept up on the couple and struck Hendren on the head with a milk bottle, jumped on him and then punched him about the head and face with his fists rendering him unconscious.
When he came round Hendren, who was in a bloodied state, realised his wallet had been taken and with the aid of a passer-by went to the Preston Royal Infirmary for treatment.
The court heard that during their investigations the police had found the stolen wallet that contained the missing bank notes in a drawer at Malone's lodgings in Beech Street. Evidence was also submitted that fragments of the broken milk bottle had been discovered in the turn up of Collin's flannel trousers.
In a statement read to the court, Shaw said that Hendren had kept buying the drinks and flashing his wallet and that Collins had suggested she walk him to Winckley Square were he would take it off him, but would not hurt him.
Hendren who was keen to give evidence told the court that he wanted to go to his lodgings but Shaw persuaded him to go for a stroll and the next thing he knew he was being attacked by Collins.
Stating that Collins had hit him with a hard object, breaking his spectacles as he fell to the ground, and whilst on top of him had punched him several times about the face with his fists. It had been impossible to get free as the woman was holding his legs.
After consulting the magistrates committed the three accused to Lancaster Assizes. Collins being remanded in custody and the women being released on bail.
At the Lancaster Assizes before Mr Justice Cassells in late October 1946 Collins pleaded guilty to robbery, assault and conspiracy. His Lordship told Collins that society must be protected from his kind and sentenced him to five years' penal servitude.
Mary Shaw, a mother of four, also pleaded guilty and was give a 12 month prison sentence for conspiracy. The court heard she had a long history of permitting her house to be used as a brothel and of living off immoral earnings.
Malone who protested her innocence was found guilty of conspiracy by the jury and was given a sentence of 15 months. His Lordship telling her she had rightly been convicted having played a prominent part in the wicked plan.