Read the fascinating lost letters of a Lancashire war hero
One hundred years ago the widow of a Lancashire war hero received the nation's highest honour in recognition of his bravery. Elizabeth Botcherby looks at some long lost letters casting new light on the heroism of John McNamara
Friday, 28th February 2020, 5:30 pm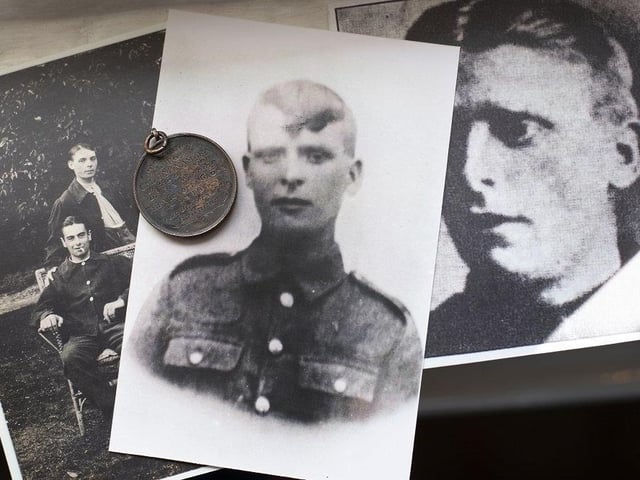 Memories of John McNamara VC
At the start of the war he was an ordinary mill worker from Lancashire. By its end, he was a hero.
The only soldier from South Ribble to receive the Victoria Cross in the First World War, the most prestigious military honour for bravery. Comrades admired his gallant actions. His commanding officer was 'honoured' to have served alongside him.
But when his award was announced in the London Gazette, his family could not be traced. A hero without a home.
Memorial to John McNamara in Bamber Bridge
Corporal John McNamara, a signaller in the 9th East Surrey Regiment, was awarded the VC for "conspicuous bravery, initiative and devotion to duty" during a volunteer mission in north west France in September 1918.
Sadly, he was killed in action before his decoration was announced on November 15, 1918 and, owing to the chaos of conflict, the only record of his life before the war was his town of origin in his military record.
Armed only with "Preston", a newspaper appeal was launched to track down his loved ones, eventually locating his widow Mary Ann McNamara (nee Atkinson) in Bamber Bridge.
On February 27, 1920, Mrs McNamara was honoured with a private meeting at Buckingham Palace to receive her late husband's Victoria Cross.
Replica of John McNamara's medals
During the meeting, King George V described Cpl McNamara as a gallant man and expressed his profound sympathy for her family's loss - echoing the sentiments of his comrades and officers alike.
In a letter to Mrs McNamara shortly after his death, an unnamed comrade wrote to convey the feelings of the battalion.
He said: "I beg to express on behalf of the signalling section our greatest sympathy in the loss you have sustained in the death of your husband. He will be greatly missed by us all, for his gallant action only a few weeks ago filled us with admiration, especially as what he did was purely voluntary and entirely apart from his work as a signaller."
In another letter a fortnight later, he signed off with a touching tale of a visit to her husband's final resting place, demonstrating the depth of feeling for Cpl McNamara.
"Last Sunday we visited [his grave], turfed it all round and left on it an artificial wreath," he wrote. "You may be sure his grave will be cared for and a permanent cross put on it."
Cpl McNamara's popularity extended beyond his comrades. In a letter dated November 22, his commanding officer Lieutenant Colonel Ewan A. Cameron wrote to Mrs McNamara, offering to accompany her to Buckingham Palace and showered praise upon her late husband.
"He was one of the most gallant fellows I have ever seen and he richly deserved the VC," he said. "He was much respected and esteemed, and his death is much regretted and mourned by all. In losing him we have lost a splendid soldier and friend who tried to do his duty nobly and well."
He continued: "The whole Regiment, Brigade and Division are thoroughly proud of him, whilst I myself feel it a distinct honour to have had him serving under me."
Born in Walton-le-Dale in 1887, John McNamara worked as a ring jobber at AS Orr's cotton mill and lived in School Lane, Bamber Bridge, with his wife Mary and four daughters.
He joined up in December 1916 as a private in the Loyal North Lancashire Regiment, before undertaking a signalling course and transferring to 9th East Surreys in April 1918, the battalion having suffered heavy losses during the German Spring offensive.
After volunteering for a dangerous mission to re-establish contact with the retreating enemy near Lens, newly promoted Cpl McNamara wrote to his brother-in-law Mr W Eckersley to reassure his family.
In the letter dated September 3, 1918, he confidently stated:"I am in the pink and the best of health and prepared to meet anything!"
Five days later, having survived the ordeal, Cpl McNamara wrote again to recount the horrors of the mission. Describing the first few hours as going "grandly", the group encountered trouble as they entered the third line of German trenches when Cpl McNamara, who was operating a telephone, heard the enemy approaching.
He wrote: "No sooner had we entered the trench then I heard the voices of the enemy. I at once reported to the captain leading the party but before he had time to answer me he was shot through the head and died.
"Then our second, third and fourth officers were all badly wounded. We were left to fight or die so I took the situation in my hands and got a few of the party together and we fought hand to hand in a very narrow trench with dead on both sides and the wounded moaning at the bottom, helpless."
After half an hour's fighting, first with a revolver taken from a wounded man and then a Lewis Gun, only Cpl McNamara and one of his comrades remained.
"Just picture two men in a trench with dead and wounded all around," he continued. "I held the trench myself whilst my mate rushed back for a party of stretcher-bearers."
The men were told they had gone too far and ordered to retire to the second German line. However, they refused to retreat until they had escorted their wounded comrades to safety under heavy fire.
Concluding his account, Cpl McNamara noted that he had been recommended for "some decoration" and hoped that it would blossom into a month's leave.
Unfortunately, he would never know of his Victoria Cross as he was killed near Solesmes on October 16. He was 30 years old.
Cpl McNamara's widow first heard the news in a letter dated October 23, from his commanding officer. A fortnight later she received an account of his final moments, written by those who served with him.
The unnamed soldier recounted: "On October 16, our battalion was engaged with the enemy and Mac was alright until a counter-attack was made, when he was wounded in the face.
"One of our signallers saw him walking down to the dressing station and we all thought he had got safely away. But something must have happened when he was getting away as the next day we found his body in the village of [Solesmes]."
The kind words of his comrades and officers provided some comfort to Mrs McNamara who was described as being in a delicate state of health following her husband's death. The local community rallied around their fallen hero, setting up a house-to-house collection to support the bereaved family into which Cpl McNamara's former employers - AS Orr and Co - contributed £100.
Cpl McNamara VC is buried at Romeries Communal Cemetery, near Solesmes, and his VC is in the possession of The Queen's Royal Surrey Regiment museum at Clandon.