Preston woman kills drunken man in self-defence with poker
Local historian Keith Johnson looks back at the case of a drunken man who own domestic violence led to his death...
Wednesday, 26th February 2020, 2:13 pm
Updated
Wednesday, 26th February 2020, 2:18 pm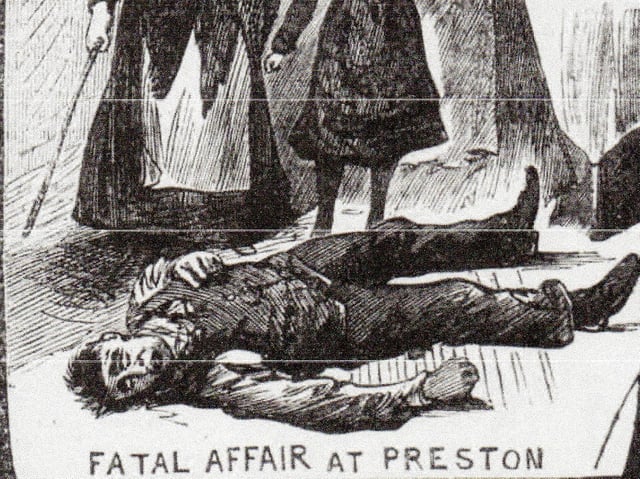 Hilliard was struck by a poker
On the second Saturday of February 1884 Thomas Hilliard, an umbrella maker by trade, was in a drunken state and the events that followed led to his premature death.
According to witnesses he had arrived at his Dixon Street home in a quarrelsome mood and seized his daughter Elizabeth by the throat. In consequences she and her mother had run out, returning later along with her aunt Ann Curry.
Hilliard was clearly unhappy to see his sister-in-law and after exchanging words he also seized her by the throat, pushing her on to a fireside chair. Fearing for her safety Mrs. Curry grabbed a poker and struck her attacker on the head knocking his billy-cock off. As she escaped his clutches he appeared to stumble falling backwards on his head.
After picking himself up he left the house and went to the Bentley's house in Silver Street where he opened their front door and immediately fell backwards down three stone steps landing on the pavement. Seeing blood flowing from a wound on his forehead Alice Bentley helped him into her house, bathed his wound and put a plaster on it. He appeared to be very drunk and was not speaking and after sitting on a chair for a few minutes he took himself back home, staggering as he went.
By then his family had taken shelter with neighbours and it appeared that Hilliard took himself up to his own bedroom where he was found on the Sunday morning lying face down on the floor quite dead. Efforts to revive him proved fruitless and the police were informed. After their preliminary investigations the police held Mrs. Corry in custody, charging her with causing Hilliard's death subject to the inquest verdict.
The inquest took place on the following Tuesday at the Earl Street police station before the coroner Mr. Gilbertson. The first witness called was Elizabeth Hilliard who testified as to the sequence of events previously described. She explained that her mother had been staying at her aunt's for a couple of days having grown tired of her father's drunken behaviour.
Alice Bentley also testified as to how events unfolded and how she had visited Hilliard's home on the Sunday morning to check he was okay only to find him dead. Remarking that there was blood on a pillow and that it appeared that he had fallen off the bed.
Dr. Pilkington who carried out a post mortem reported that there were bruises to the knees and elbows consistent with falling, on the forehead there was a contused wound and although the skull was not fractured the brain was congested and gorged with blood. He then remarked that although the deceased had a fairly healthy heart and lungs, the liver and kidneys were diseased and the stomach inflamed. He concluded by saying the cause of death could not to be attributed solely to the blow from the poker considering his general condition.
Mrs. Curry then responded to some questions from the jury, generally agreeing with the testimony of the witnesses and when asked about Hilliard's character she remarked he was a very wicked man. The coroner then told the jury that they must decide if the blow inflicted by Mrs. Curry was inflicted in self-defence, bearing in mind Hilliard's aggressive behaviour towards the women.
The jury returned in a very short time with a verdict that the deceased came to his death through excessive drinking, accelerated by a blow, given in self defence by Ann Curry. Mrs. Curry was then told no criminal charges would be brought against her.