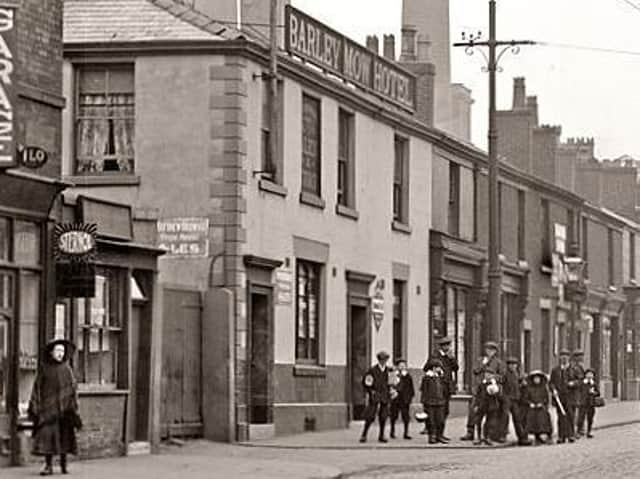 Parkinson passed on stolen money in the Barley Mow Inn on New Hall Lane
On the third Thursday of May 1847 Joseph Hull was at 11 o'clock at night making his way to Garstang on the turnpike road and was close to the New Lane Bridge in Claughton when he saw two men coming towards him.
One of them threw him upon the ground and while laying on his back he took coppers from his waistcoat pocket, his watch from its fob and his purse from his breeches. His attacker then spoke to him aggressively with Hull begging the pair not to hurt him, telling them there were enough sovereigns in the purse to satisfy them. Having pocketed the loot the pair left the distraught victim and set off towards Preston.
The incident was reported to the Lancashire County Constabulary, established in 1839, and their investigations led to the appearance of Robert Charnley, aged 28, and Joseph Parkinson, aged 23, before the county magistrates at Preston Town Hall accused of stealing a silver watch and over £8 in cash.
Mr. Hull being sworn, related details of the incident and identified Parkinson as his attacker with Charnley standing by throughout. The place where Hull was robbed was about a mile from the Brockholes Arms in Claughton and John Helm, son of the landlord, told the court the two men had been in the inn that night leaving shortly before 11 o'clock.
Police investigations had led to the apprehension of Parkinson on the following Saturday morning at Pottery Hill off Friargate in Preston. According to a deposition by John Swarbrick, brother in law to Parkinson, the accused had told him that the watch was hidden near to the Tulketh railway viaduct.
P.C. William Spencer told the court he had apprehended Charnley in Preston and he had admitted being with Parkinson on the night of the robbery, but claimed he knew nothing of any crime.
Although later he was to lay the blame on Parkinson, stating he had never touched the victim.
When quizzed about the whereabouts of the watch he agreed to go with the constable to the Tulketh Viaduct and he pointed out where it was concealed.
Supt. Carswell then testified as to his dealings with Parkinson who claimed that Charnley had got hold of the man, and after a scuffle took the money, giving him some sovereigns and loose change.
Agnes Moss then told the court that she had been with Parkinson at the Barley Mow public house the following day, and that he had given her £3 to get some clothes out of pawn and to buy a new bonnet.
Parkinson telling her that now they had some money they could go off together.
Both the prisoners declined to say anything and they were committed for trial at the Preston Sessions the following week.
After hearing the evidence the jury delivered a guilty verdict for both prisoners.
The chairman Mr. T.B. Addison praised the county police for their investigation work and taking a dim view of robbery on the highway informed both men they would be transported, Charnley being sent away for seven years and Parkinson for 15 years.
A message from the Editorial Director, Gillian Parkinson:
Thank you for reading this story on our website.
But I also have an urgent plea to make of you.
In order for us to continue to provide high quality local news on this free-to-read site and in print, please purchase a copy of our newspaper as well.
With the coronavirus lockdown having a major impact on our town centres and many of our valued advertisers - and consequently the advertising that we receive - we are more reliant than ever on you buying a copy when you pop out for your essential shop or subscribing for delivery.
Our journalists are highly trained by the National Council for the Training of Journalists (NCTJ) and our content is independently regulated by IPSO to some of the most rigorous standards anywhere in the world. Our content is universally trusted - as all independent research proves.
As Baroness Barran said in a House of Lords debate this week on the importance of journalists: "Not only are they a trusted source of facts, but they will have a role to play in rallying communities and getting the message across about how we can keep ourselves and our families safe, and protect our NHS. Undoubtedly, they have a critical role."
But being your eyes and ears comes at a price. So we need your support more than ever to buy our newspapers during this crisis. In return we will continue to forensically cover the local news - not only the impact of the virus but all the positive and uplifting news happening in these dark days.
We thank all our readers and advertisers for their understanding and support - and we wish YOU all the best in the coming weeks. Keep safe, and follow the Government advice. Thank you.
HOW TO SUBSCRIBE: You can subscribe for delivery by contacting us at [email protected] or calling us on 0330 4033004 for details of a participating newsagent near you.