Preston lodgers drugged landlady before stealing her jewellery
Local historian Keith Johnson looks back at the case of two lodgers who betrayed the trust of their landlady...
Thursday, 29th October 2020, 12:30 pm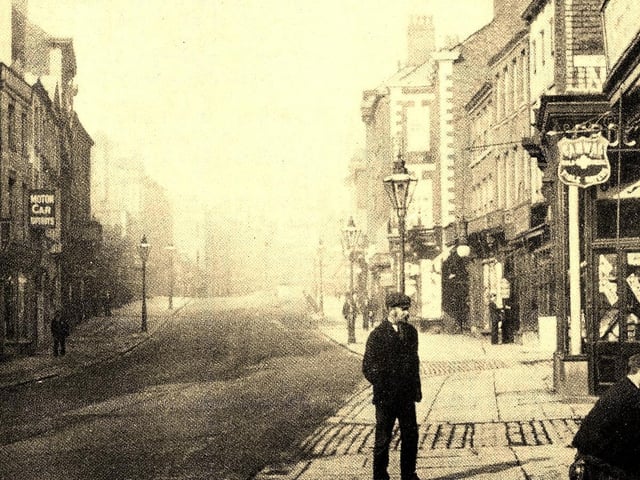 Downey had visited a Church Street pawnbroker
In April 1891, Bridget Houghton, who along with her husband kept a lodging house in Brookhouse Street, had two male lodgers staying with them known as Downey and Richardson.
On the forst Monday od that month the two lodgers went to work shortly before six o'clock in the morning, returning for breakfast three hours later. After breakfast the pair went out telling the landlady that they would not be returning to work until the afternoon.
They returned a couple of hours later in high spirits and carrying some beer and whisky. Mrs. Houghton, whose husband had gone off to attend to his horse keeping business, was alone in the house and she declined their offer of a glass of beer. The pair were persistent in their request and eventually she relented and Richardson poured her a glass of whisky mixed with milk.
The next thing she remembered was waking up feeling drowsy at five o'clock, having been slumped in a chair in an unconscious state. She then went upstairs to get some money out of her dress pocket, and found that both Richardson and Downey had departed and taken a number of articles with them.
A silver watch, two watch guards, a silver chain, two silver studs, a silver pen holder, a brooch, two coats, two vests, a pair of trousers and a pair of boots having been taken – valued at over £!2.
What followed was a county-wide police search for the culprits that took until late August 1892 before John Downey was arrested by the Liverpool police. He appeared at the Preston police court the following day, having been brought from Liverpool by Detective Inman of the Preston police.
The police officer told the court that the prisoner, when charged, had admitted the offence, and pleaded to make restitution. Stating that he had only received 10 shillings for the silver watch and that Richardson had got the rest of the loot. He was then remanded for a week and at a further hearing committed to the Preston Quarter Sessions of mid October 1892.
He appeared before the Chairman Mr. C.R. Jacson and other magistrates and pleaded guilty of stealing the missing items. The court heard that despite great effort they had not been able to trace Richardson the other suspected thief. It was according to the prosecution a theft of exceptional nature having involved drugging Mrs. Houghton so that they could carry out their criminal behaviour with her in a hapless state.
Ernest Bramwell, an assistant pawnbroker, of Church Street in Preston, testified that Downey had pawned the silver watch for 10 shillings the day after the theft, and a Manchester pawnbroker testified as to being visited by a man who pawned the silver chain, although he didn't think it was the prisoner.
Downey, aged 28, who appeared respectable and intelligent, had been imprisoned on a number of occasions in his youth. A number of testimonials from respectable gentlemen had been handed in suggesting he was a honest individual and they were read out to the court. The plea from his counsel was that Richardson had led him on to commit the offence.
The Chairman then addressed the prisoner telling him his behaviour could not be excused and that he alone was responsible for his actions. He was then informed that he would go to prison for five months, to be followed by two years police supervision.
Thanks for reading. If you value what we do and are able to support us, a digital subscription is just £1 per month for the first two months. Try us today by clicking here