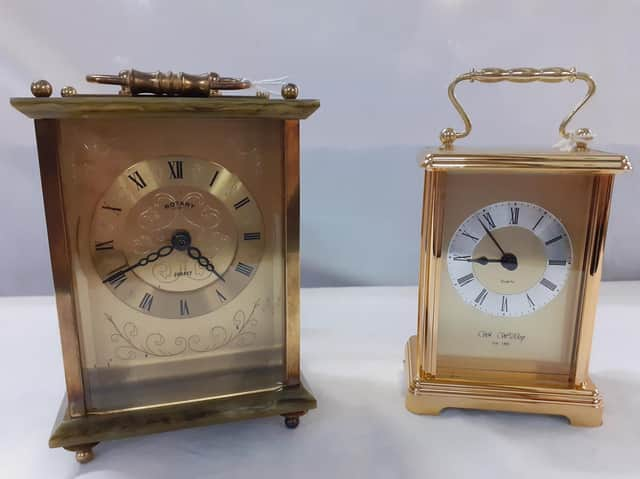 These carriage clocks follow the classic design favoured since 1810
Time to change the clocks this weekend, that wonderful herald of spring. Long before smartphones and even wristwatches, the carriage clock was vital for telling the time on the move.
French clock maker Abraham-Louis Breguet developed the first modern 'pendule de voyage' (carriage clock) in 1796 for Napoleon, who wanted a portable clock to take on a journey.
This is a nice selection of carriage clocks, following the classic design favoured since 1810: rectangular, about eight inches high in brass and glass, and with the obligatory carrying handle.
The golden age of production was based around Belfort in France between 1860-1920. Clocks from this period by Paul Garnier, Alfred Drocourt, Henry Marc, Henri Jacot and Leroy & Fils can fetch thousands of pounds.
By the middle of the 19th century, high end carriage clocks favoured decoration over practicality. Some were made in gold dripping with Rococo flourishes, while others followed Japanese influences with frames imitating bamboo. Some of the last variances from the standard design display Art Nouveau influences and, later, the more austere geometric lines of Art Deco.
A French carriage clock became a standard wedding present from the 1880s to the 1920s, but competition from British clock makers like James McCabe shrank the import market. Production waned from the 1930s with the rise in popularity of wristwatches.
Prices depend on the quality of the case, the maker, decoration, complexity of the movement and additional features such as quarterly strikes, calendar indicators, or subsidiary dials.
Rare examples still matched with their original protective leather carry case are more valuable. Also "repeater" clocks are popular.
These would strike or chime when you pressed the button, so if it was dark and you couldn't see the face, you could hear what time it was!
A miniature clock can be triple the value of a standard-sized one, as can a large one. Pieces over 12 inches high are rare, usually English, and could be worth more than £1,000.
Whatever timepiece you favour, this weekend as we 'spring forward': there will always be one clock you forget to change and which catches you out a week later!