Irish eyes are smiling over this first-class pottery maker
Our antiques expert Allan Blackburn looks at Belleek china and its high-quality reputation...
Wednesday, 18th March 2020, 11:45 am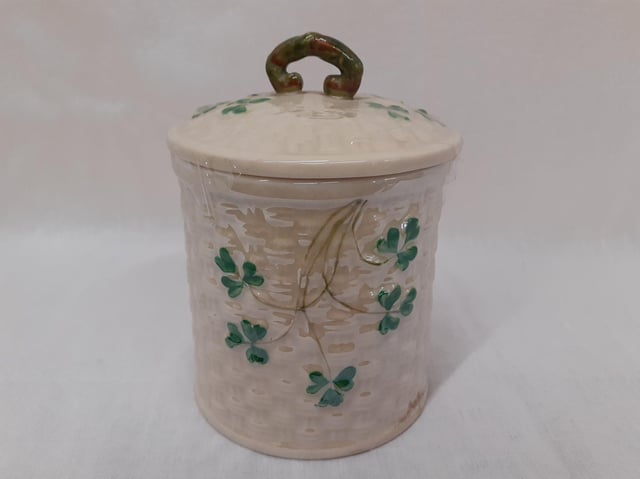 This trinket pot is a beautiful example of Belleek
With it being St Patrick's Day this week, what better time to talk about Irish Belleek china which remains a highly regarded collector's item in the contemporary market.
In 1849, John Caldwell Bloomfield inherited his father's estate in the small market town of Belleek, County Fermanagh. With railway connections and a river to drive a mill, the state was also rich in the minerals necessary for pottery, enabling Bloomfield to found a flourishing pottery business.
Bloomfield also lured expert craftsmen from Stoke-on-Trent to head teams of local labourers, promising high wages and a better life.
Belleek quickly built up a reputation as a high-quality manufacturer, leading to personal commissions from Queen Victoria.
Around 1900, production shifted from earthenware to pearly white Parian porcelain, named for its smooth finish akin to the luminous marble from ancient Paros, Greece.
Belleek complemented this finish with richly intricate hand painted patterns, including patriotic shamrocks.
Parian can be created in liquid form and poured into moulds, enabling the development of the celebrated Belleek 'basket weave' design that began in 1865.
This trinket pot is a beautiful example of Belleek, showing the trademark pearlescent sheen created by Belleek's signature white glaze dip. It is on sale at the centre for £35. It is carrying the hand painted shamrock design that many Belleek pieces do. The other piece is a tall angular vase on sale for £38.
Serious collectors benefit from studying Belleek's maker's marks, with a usefully comprehensive list on Belleek's own website. 'Black Mark Belleek', the earliest pieces, can fetch thousands of pounds, but even this can be split into three areas. Belleek went through tumultuous periods and ownership changes in the 20th century, but proudly continues as the oldest craft pottery in Ireland.
And 16 different artisans are involved in every piece produced, right up to today.
With one of the highest quality standards of any manufacturer, only pieces which pass all 16 stages earn the coveted Belleek stamp.
You must be careful of unstamped items as these are likely to be seconds. So raise a glass to Belleek: a quality mainstay for collectors and investors.