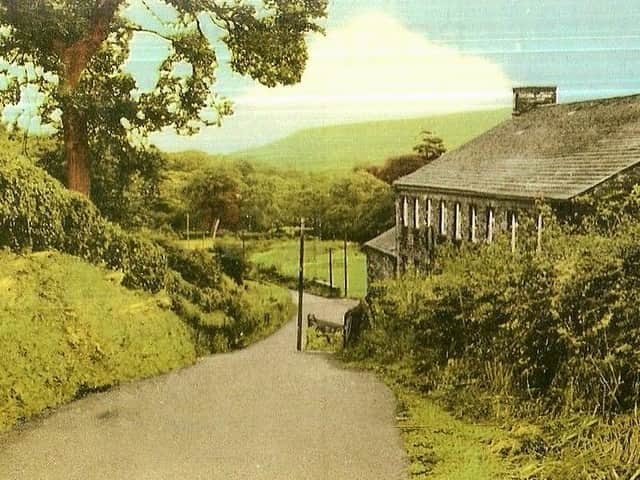 Vintage postcard of the country lanes around Chipping
At a time when our opportunities to ramble are being freed up again the recent news that five new walking routes have been designated as public footpaths in the Ingol area of Preston will please those who love to wander and wonder in our countryside.
It has taken the Mid Lancashire branch of the Ramblers Association 20 years to get these rights of way acknowledged. Rural rambling is one of the pursuits encouraged in Lancashire and Preston can lay claim to a thriving organisation in Preston Ramblers who have close to 200 members and are part of the Mid Lancashire group. They are part of the original National Ramblers Association, now rebranded as The Ramblers, which has a membership of more than 120,000 and has been in existence since 1935.
During the summers of 1931 and 1932 there was a craze for hiking, as it was termed, and crowds of people, mostly young, took to country walking. On to the paths and byways they strolled and, locally, they were inspired by a series of articles that appeared in the Lancashire Evening Post.
Vintage postcard of the view from Jeffrey Hill, near Longridge
Throughout the summer a weekly ramble was printed with a sketch map of the route to be followed. It was in the spring of 1932 that a group of 500 hikers, mainly from Manchester, took part in mass trespass from Hayfield in Derbyshire to Kinder Scout, an eight-mile trek, claiming their right to ramble through open countryside. Their protest and others countrywide leading to the Right Of Way Act of 1932.
Eager locals donned their hiking boots to discover the scenery within a 20 miles radius of Preston. It was recommended that, besides, the newspaper article they needed a copy of the one-inch scale Ordnance Survey Map.
A typical ramble was from Fulwood Barracks through the fields to Brock. It was a route which passed through the hills and hollows, around by Squire Anderton's Wood, went up the lane to Fernyhalgh, passed by Whittingham Hospital and Chingle Hall, through the fields at Goosnargh, onwards to Inglewhite and then to Walmsley Bridge, before following the River Brock to Brock Railway Station where, hopefully, you were on time for a train journey back to town.
Of course, most hikers had in those days to rely on public transport and the walks would begin with such instructions as take the bus to Longridge and get off at the Beacon Café, or leave the bus at Garstang and cross the Wyre Bridge.
Tootall Heights Park in Longridge
Indeed, the Ribble Bus Company was anxious to cash in on the new trade and their regular country service was happy to oblige. For seven pence you could ride to Longridge, for eight pence you could travel to Brock and for one shilling Ribchester could be your destination. So popular were the rambles mapped out by Bruce Clucas, a local enthusiast, that the Evening Post responded to the public clamour to produce a book titled '33 Rambles' which reprinted the popular routes.
Published in April 1933, at a cost of nine pence, it became the essential guide for local ramblers. From his youth, Clucas had been a keen hiker, and he was eager to show that a weekend wandering through the countryside could be enjoyed by working families.
In his case it was a chance to enjoy the great outdoors and the welcome fresh air after a week spent in Horrockses cotton mill in Stanley Street where he worked from the age of 13. The book's popularity never wavered and a decade ago I purchased a copy on eBay for £5 to glimpse at the routes which remain relatively in tact, if you ignore the odd housing estate or motorway which now interrupts the original routes.
In fact, the new found craze was as popular as ever after the Second World War and once again the Post was inspired to produce an updated version in 1951. By this time the number of routes had been increased and '40 Rambles' became the must have book for the lovers of the countryside at a cost of just two shillings. The hikers were certainly encouraged to take a packed lunch with them on their weekend trek, with local bakeries Harrison's and Cookson's advertising their sandwich bread.
Bruce Clucas had just retired at this time, having spent 50 years in the cotton trade and was a familiar figure on the well-trodden routes he had developed.In later years, local postman Cyril Spiby became a leading local rambler with a series of articles in the Post, covering routes from Clitheroe to Lytham all designed for the pleasure of local ramblers. Besides walking six miles daily delivering the Royal Mail, he often spent 50 miles a week out rambling.
In 1985 he was chairman of the Preston Ramblers Association when they celebrated their 50th anniversary and he was instrumental in producing an updated version of the 'Round Preston Walk' which had been devised in 1970 by Ian Brodie. The circular route of 23 miles starts at Penwortham Bridge, taking in Walton-le-Dale, Cuerdale, Grimsargh, Haighton, Broughton, Woodplumpton, Cottam and Lea, before Penwortham Bridge is reached again.
The walk, which was published for a fifth time for Preston Guild in 1992, remains an outstanding route with panoramic views of Preston from all points of the compass. Like many local ramblers, I have completed the course in stages during the winter months, coming to the conclusion that Preston is a green and pleasant land.
Rambling along we have wandered by the river, alongside a babbling brook, through fields of green, crossed ancient and creaking bridges, clambered over old stiles and new, lost our way and then seen the route marker ahead and been ever grateful to those rambling pioneers of old.
The freedom to roam is a privilege we enjoy, thanks to the ramblers of the past who believed fresh air and fun was just what the doctor ordered. Indeed, Bruce Clucas, a kindly and loveable character, remains as an example to us all of what walking can do for you. An enthusiastic walker throughout his life he was still climbing the Fells in his 90th year and when he died in June 1984, after a short illness, he was 99 years old – just two months short of his centenary.
Of course, the Post continues its tradition of guided walks with an excellent series of rambles detailed throughout the year and a number of publications exist mapping out the well trodden routes that Clucas and the other pioneers walked those years ago. Since 2012 we have also had the 21-mile long Guild Wheel to trek along in the company of cyclists and runners, taking us along leafy lanes to enjoy the countryside that surrounds Preston.
And if you are in isolation at this difficult time you could always leaf through the pages of my 'Preston History Tour', published by Amberley (priced £7.99), and take a virtual tour of the historical locations around the city.