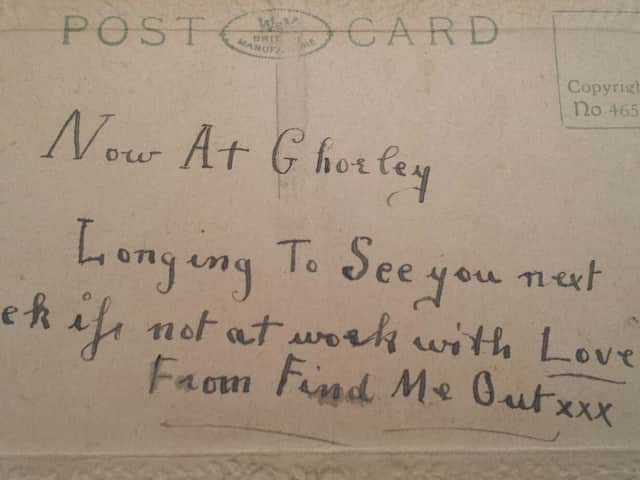 Vintage Valentine Card sent in Chorley
Lancashire folk have down the ages seen St Valentine's Day an opportunity for romance and to express their affection, a time to celebrate with the sending of greetings, particularly since Victorian Days.
In the days of Chaucer and Shakespeare, the charming, if fanciful, theory abounded that birds chose their mates on February 14. Later on shy maidens and laggard lovers took advantage of this lesson from nature, and were emboldened to go through a form of betrothal on St Valentine's Day.
Indeed, there have been a number of curious practices carried out for St Valentine's Day many a partner seeking maiden had the heart felt belief that the first man seen by a woman on St Valentine's Day was truly their Valentine.
Vintage Valentine Card sent in Chorley
And one maiden wrote thus 'Last Friday was Valentine's Day, and the night before I got five bay-leaves, pinned four of them to the four corners of my pillow, and the fifth to the middle.
'My dear friend Betty had told me if I then dreamt of my sweetheart, we should be married before the year was out. But, to make it more sure, I boiled an egg hard, and took out the yolk, and filled it with salt; and when I went to bed, ate it shell and all, without speaking or drinking after after it.
'I also wrote my desired lovers' names upon bits of paper, and rolled them up in clay, and put them into water, and the first that rose up would be my Valentine . It was Mr Blossom's name that did emerge and I lay in bed and shut my eyes all morning until he came to our house; for I would have not seen another man before him for all the world.'
In reality there are a number of St Valentine's, of whom little is known, save that relics of them exist. The authentic Saint Valentine was a Roman priest, cast into chains by Emperor Claudius II, on the charge that he assisted the martyrs during the Emperor's persecution of the Christians.
Legend tells us this St Valentine restored sight to his gaoler's blind daughter whilst imprisoned. Yet in the year 269AD, on February 14, the Saint's head was lopped off by this enlightened monarch.
There seems little enough in Valentine's life or death to connect him with love protestations or Cupid's arrow, but when he was executed he was regarded as having a supernatural but benevolent care of all affairs of the heart, and his day was commemorated for the sending of amatory epistles.
Samuel Pepys was clearly a believer of the importance of the occasion writing thus in his diary on St Valentine's Day in 1667, 'This morning came up to my wife's bedside. I being up dressing myself, little Will Mercer to her Valentine, and brought her name written upon blue paper, in gold letters done by myself, very pretty; and we were both well pleased with it. But I am also this year my wife's Valentine, and it will cost me £5, but that I must have laid out if we had not been Valentines.'
Originally, Valentine's were entirely hand written and painted. Many were in the form of verses and the poets and scribes such as Lydgate, Chaucer, Drayton and Shakespeare wrote lyrical and sentimental verses.
Victorian Valentine's card
As the 18th century drew to a close the first commercial Valentine's appeared being engraved or lithographed. It seems people took their love affairs most seriously, and paid so generously for a pictorial love letter, that manufacturers could afford to employ first rate artists.
By the start of the Victorian period perforated and lace embossed cards were all the rage. The popularity of Valentine's Day was apparent in 1865 despite the poverty of the cotton famine years when it was recorded that love letters had arrived in Preston from all parts of the kingdom.
The largest number of extra letters ever known, both in and out of the Post Office, was reckoned to be more than 24,000 during the week. In those days the letter carriers had to pay the postmaster for the letters being obliged to charge those who received the correspondence the appropriate fee.
The charge of an extra penny imposed on St Valentine's Day often led to a refusal to accept the greeting which was duly returned to the postmaster as a 'dead letter' leaving a would be suitor disappointed.
A decade later recognising the commercial benefits of St Valentine's Day the Preston Chronicle was stocking a large variety of greeting cards at its Fishergate office. That year from dawn to midday on St Valentine's Day the postmen were busy delivering Cupid's despatches.
All to be handled with care, those parcels of passion often containing roses and blooms entwined with pink silk. Many of them costing £1 or £2 and containing embossed paper with lovely messages such as ' May the flowers I send breathe of my love' or 'Bright as these blossoms may thy life become'.
Indeed, many a card was inscribed with a dainty missive such as, 'The rose is red, the violet's blue, the carnation's sweet and so are you.' The popularity increased each year, especially the boxed novelty variety of greetings with cages, flower filled shoes, fans, watering canes and folding gates all depicted in cards.
Humour was also beginning to play a more prominent part in the verses and the secret Valentine sender often targeted the conceited or flirtatious with cruel content which sought to embarrass the receiver.
By the 1890s the Post- Master General's report suggested a sharp decline in St Valentine Day greetings, in a decade the number of Valentines through the post in London had dropped from 2.7 m to 320,000.
It was a situation reflected in Manchester where the Manchester Post Office stated there was not the slightest perceptible increase in the daily mail on the romantic day. Concluding that St Valentine had been relegated to the mists of time by the Mancunians.
Yet 40 years on there was a resurgence of interest with the Lancashire Daily Post reporting that although the romantic days of girls associated with crinoline and ribbons had gone, the age of platinum blondes, sleek cars and cocktails had emerged.
The new age of romance had brought simple cards with crimson hearts and cupid's arrow. With simplicity in verses such as, 'Miss Bachelor Girl, so charming and rare, I with you would like to share'.
Up to the Second World War and beyond the celebrations of St Valentine's Day as a romantic occasion continued with Valentine Balls being very popular at numerous dance halls, including the Public Hall and the Queen's Hall in Saul Street.
The message being 'Bring your Valentine with you – or meet her here'. Quite an invitation for three shillings admission – and if you were a member of HM Forces it was a shilling less.
Likewise, you could take your sweetheart to venues such as the Floral Hall in Morecambe, the Empress Ballroom in Burnley, the Marine Hall in Fleetwood and the Tower Ballroom in Blackpool.
From the 1960s the trend has been away from the tender Valentine to the more direct or comical illustrations and verses. By the end of that decade more than 10m Valentines were being posted, with one in five of the population happy to continue the tradition.
The upper trend continued throughout the 1980s with the number of cards posted passing the 17m mark and many ladies by then were handed a traditional bunch of long stemmed red roses which almost doubled in price to £30 in the days before Valentine's.
In 2010 we did have the release of the Valentine's Day romantic comedy in the cinemas starring Jessica Alba and Ashton Kutcher, which gave many a courting couple an excuse for a date.
According to a recent survey, the older the sender the sweeter the Valentine. In these days of instant messaging it is possible to send a message of love or affection electronically, yet the popularity of Valentine greetings remains with online suppliers happy to send your message through the post.
The postman's letterbag may not be bulging quite the same, but many a love struck soul will be happy if a card drops through their letterbox – even if the sender leaves you curious by not revealing their identity.