Going ga-ga for collectable radios
Our antiques expert Allan Blackburn takes a look at the history of radios.
Thursday, 7th January 2021, 3:45 pm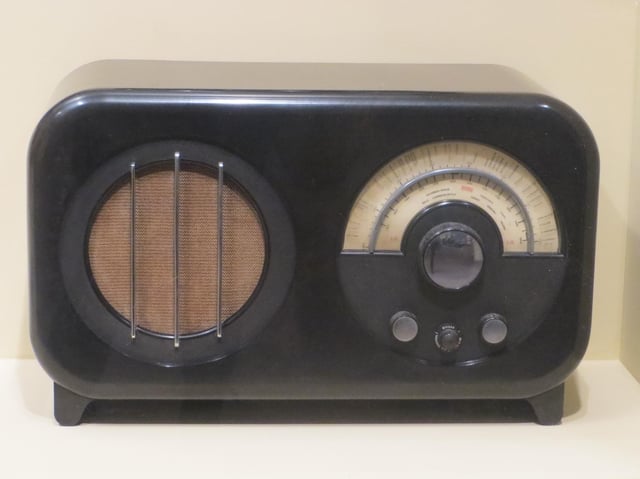 This attractive 1934 AC85 radio is 90 pounds
As someone who wholly agrees "the pictures are better on radio" (especially when they let me on to enthuse about antiques!), it got me thinking about the earliest radio appliances, many of which are works of art in themselves.
Italian Guglielmo Marconi sent and received his first radio signal in 1895, and by 1902 had successfully sent the first wireless signal across the English Channel.
The BBC started daily radio broadcasts in 1922, with the directive to "inform, educate and entertain".
By 1934 the radio was part of everyday life for many households, making the look of the set very important. This fortuitously coincided with the heyday of Art Deco style, and plastics technology superseding the initial wooden sets' vibration and interference.
For most people, the cover-all term 'Bakelite' (like Tupperware and Hoover) immediately springs to mind. The first moulded plastic used in radios, it was limited to dark brown and black.
Other plastics included Plaskon, in beige, white, and a limited number in red, which command high prices today. Catalin radios could be produce)d in a variety of brilliant hues, however most faded or cracked over time, making surviving pieces in original shades highly collectable.
The extremely successful British electronics company EKCO (from Eric Kirkham Cole Limited) produced stylish radios from 1924 until 1960. Starting at £30-£40, their iconic Art Deco early models are very sought after and can rightfully fetch hundreds of pounds upwards.
We are very lucky to 'receive' vintage EKCO radios from time to time, such as this attractive 1934 AC85, and the 'Odeon', shaped like 1930s Art Deco cinema building façades, and including a willow tree to represent the company's Essex location, priced £90 and £130.
Canny collectors also look for the stands from round sets, as a pair is worth so much more than the sum of its parts: recently a paired AD65 round radio and stand fetched just under £2,000, and the record price paid for such at auction is £15,500!
Dedicated restorers now carefully convert sets to receive FM, DAB and Internet radio, literally finding a keen new audience. However grim the news, hearing it through such a stylish set somehow makes it sound much more pleasant!