Figurines of children were a welcome relief in difficult times
Our antiques expert Allan Blackburn looks back at some German delights from the antiques world.
Thursday, 23rd July 2020, 3:45 pm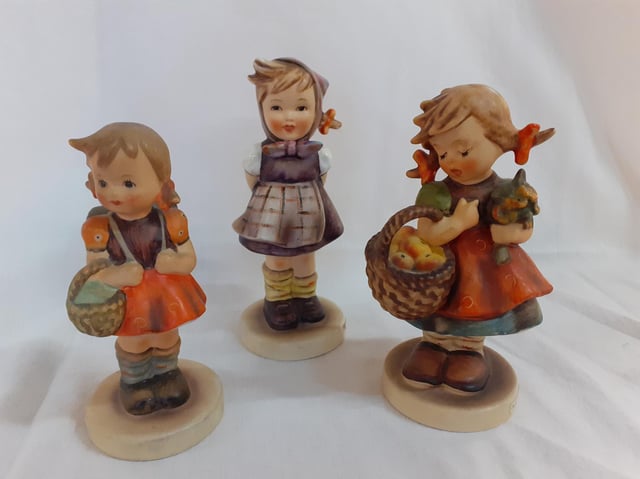 The characterful collection is priced between 19 - 29 pounds
It's wonderful to be back in the centre, and catching up with friends and visitors- all at a safe distance, of course! After months getting overfamiliar with my 'home' antiques, I find my eager eyes spotting lots of fresh details around the centre.
One is this group of charming Hummel child figurines.
Following Germany's stock market crash in the 1920s, fifty-year-old German porcelain firm F.W Goebel was at risk of bankruptcy. Founder Franz Goebel had a brainwave that figurines of innocent children would appeal to customers and help them forget the political turmoil.
Fortuitously, he discovered Franciscan nun, Maria Innocentia Hummel, whose popular drawings of rosy cheeked children were helping fund her convent's teaching and missionary work. It was agreed that she would have final approval on each design, earning it the 'M.I. Hummel' trademark. These checks are still made by the convent to this today.
The initial range was launched at the 1935 Leipzig Spring Fair and the response was phenomenal.
Hummel figurines are usually single children engaged in a variety of wholesome childhood activities, sometimes a pair, or accompanied by a faithful pet. Most wear traditional German lederhosen and pinafore dresses, although an international series was also produced.
Incredibly popular, with hundreds of thousands sold since the 1930s, models can be found starting at a few pounds. Their collectability and value has experienced dramatic fluctuations over the years, but rare, complex and vintage Hummels continue to be a good investment.
Most expensive are very rare 'colossal' size versions (nearly a metre high) and tableaux featuring multiple figures, both of which can fetch thousands of pounds.
The characterful collection is more realistically priced, between £19 - £29. This charming girl entranced by the bird is called 'signs of spring', and on sale for £24.
Early figurines are likely to be more valuable. Be aware the trademark symbol has changed multiple times over the years. Careful referencing can help you determine the value. Condition is also a huge consideration, and the accompanying original box can steeply increase the price.
As families enjoy meeting up more often, these figurines are a delightful reminder of our own childhoods.