Evacuees who spent their war years living in Lancashire
Seventy five years ago this week hundreds of Second World War evacuees left Lancashire and headed for home. This article from the Lancashire Post archives shows how they said farewell to their wartime home
Thursday, 25th June 2020, 7:00 am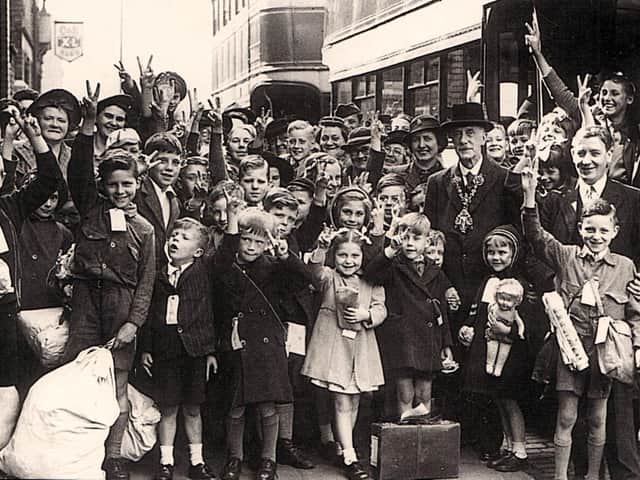 Mayor of Preston Coun J E bids farewell to the evacuees as they prepare to head home at Preston railway station
There was a mixture of smiles and tears on Preston railway station when the last official party of unaccompanied evacuees from Preston and district joined a special train taking more than 600 children back to London.
The party from Preston borough was given a civic send off by the Mayor Coun J E Gee at St George's Hall Rest Centre where they assembled and in wishing them goodbye he paid high tribute to the children and to the people who took them into their homes.
The Mayor made special reference to a foster mother who, although evacuated to Preston herself after losing her three children in a London blitz, had opened her home to 11 London evacuees.
Mrs Stewart with some of her 11 evacuee children at Preston railway station
And seven of these were in the party leaving and not one of them wanted to leave their 'aunty'.
The age of Mrs Stewart's 'children' range from six to 12 and the eldest, Harold Flatter, aged 12, of East Ham, has won a scholarship to Deepdale Modern School. Harold is one of the children staying on in Preston for the time being.
On the station the 57 children from Preston borough were joined by 67 from Preston rural district, seven from Fulwood, nine from Longridge, and two from Walton-le-Dale.
The train stared from Morecambe with about 150 children and more than 300 boarded at Lancaster.
Evacuees at Preston Railway Station heading back to London
Very few of the children wanted to tear themselves away from their Lancashire homes. The pronounced Lancashire accent which a lot of the kiddies have picked up during their stay was very evident, and some were almost unrecognisable as Cockneys.
One nine-year-old boy spoke to a Post reporter about a toad he was taking back in a tin. "Sithee," he said, "There's worms in't bottom to feed it wi'."
Another little lad from East Ham had two bantams in crates. He had the firm intention of poultry breeding when he got back to London. While waiting for the train to arrive the Mayor mingled with the children and signed autographs.
There are about 200 evacuees remaining in Preston, some with no homes to go to, and these will return individually as arrangements are made. A party of 25 children from war-wrecked Holland will reach Preston tomorrow evening from a Netherlands government hostel at Hull, where they have been receiving medical care and instruction in English.
Mrs G Evans, of Harrow, and her family of eight children
They will be met at the station by the Deputy Mayor Alderman W Gordon and the Billeting Officer Mr W E Weir, who will welcome them along with two of their countrymen Fr Q Klomp, of English Martyrs' Church, Preston, and Mr A Julius, who is a mill manager at Walton-le-Dale.
Following tea at St Joseph's Hospital, Mount Street, the children will be received into their foster home in Preston and district. They will remain for a maximum of eight weeks before returning to Holland.
There touching scenes at Lancaster Castle station when nearly 300 evacuees, including mothers, accompanied and unaccompanied children left by special train to return to their homes in London.
Many had lived in Lancaster, the rural area, or in Lunesdale, since the beginning of the war, and it was obvious they were feeling the wrench. Souvenirs, in the shape of toys of every description were affectionately clutched by the youngsters as they waved goodbye. On the train, which came from Morecambe, was another batch of about 150, who had been billeted in the resort.
Thirteen days earlier 160 evacuee mothers, children and aged people from Preston district joined the 'Evacuee Special' at Preston railway station on their way back to London. There were happy scenes on the platform as children swarmed to the windows, waving and cheering. Several of the children carried pets, a puppy or a kitten, as a souvenir from their 'aunties' and 'uncles'.
Parties from Preston borough, Walton-le-Dale, Longridge and Fulwood assembled at their respective rest centres and were taken in buses to the station. At St George's Hall rest centre, Mrs Ellen Connelly, who had with her seven of her 12 children - there are three boys in the Navy and the youngest is a year old - paid tribute to the assistance given to her by a Preston clinic worker and neighbour, who was there to see her off. Mrs Connelly, who has been living in a requisitioned house, was travelling back to Harrow, where her husband is still working.
Also of Harrow, one of the oldest members of the party, Mrs E Cousins, a widow of over 70, had also been living in a requisitioned house along with one of her daughters, Mrs Evans, and Mrs Evans's eight children. With a bandaged eye, 13-year-old Norman Evans was looking sorry for himself after being injured in a fireworks accident.
"He did not want to go back," Mrs Cousins told a Post reporter. "He liked it so well here."
Two of the Walton-le-Dale contingent were 'old residents'. Mrs George, whose soldier husband was stationed fairly near, has had two houses 'blitzed'. She was retuning to Lewisham after "a very happy stay" of four and a half years in Blandiforth Street. "I had one of the grandest billets anyone could have, I joined the local Women's Voluntary Service and made many friends," she said.
Another whose husband was stationed in the district, but is now in France, was Mrs Vernon, who with her three children, comes from Bexley. The first time she stayed for nearly two years and latterly for 11 months. "The kiddies loved this part of the world," Mrs Vernon exclaimed, "and when the fly bombs came their first thought was 'Let's go back to Lancashire'."
One of the happiest young women of the party was Mrs Stanger, of Harrow, recently reunited with her husband after he had been a prisoner of war for two years. Amid the Cockney atmosphere the Lancashire accent of Mrs Stevenson, who with seven-year-old Gillian cuddling her doll, was returning to Epsom, came as a surprise.
The explanation is that Mrs Stevenson had lived for 10 years in London and when th bombs came she was evacuated to her mother, Mrs Hobbert, of Harrington Street, Preston. Her husband is serving in Germany.
There was a kitchen car on the train. Milk was provided for the babies and there was a nursing sister to look after the sick and aged.
These articles were first published in the Lancashire Evening Post on June 7 and 20, 1945.