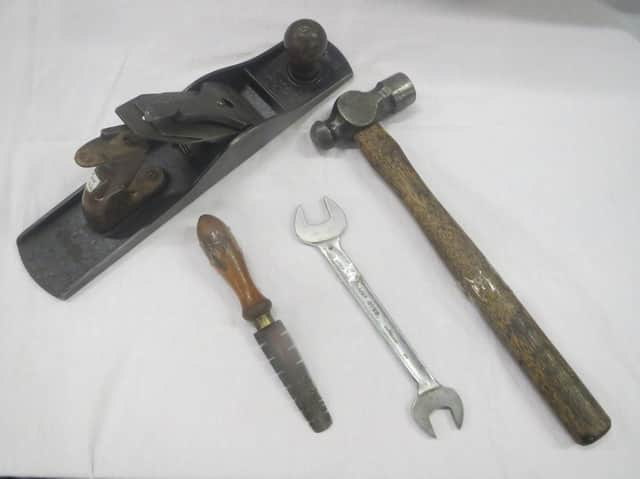 This small selection ranges from the basic hammer to a burnished plane
It's Father's Day this weekend, so I hope all the dads out there have a lovely one.
With us all spending time at home this spring, I wonder how much extra DIY has been going on? One of the busiest stalls in the centre is our vintage tools specialists, and in the past, I've had many interesting chats with their regulars finding out what's the appeal!
It seems that many DIY enthusiasts, serious woodworkers, and professional builders and craftspeople develop a preference for working with vintage and antique tools for reasons of quality, reliability and durability.
For others, collecting antique tools for interest and display has become a popular hobby in its own right. Some seek tools they remember using in younger years, or watching a parent or grandparent use. Many are fascinated by the ongoing design and technology of tools, and hunting out unusual tools or categories of tools. The vintage tool market value has risen steadily over the years.
Carefully researched and sought, antique tools can give a good return for your investment. Many people specialise in collections of a particular type of tool, or made by specific manufacturers. Hand tools can be organised into a number of categories. First there are the striking tools, such as hammers, axes and hatchets. Cutting tools include chisels and knives, with saws in a class by themselves.
The boring category (as in drilling, not yawning!) includes hand-operated drills and screwdrivers. One of the largest and most dynamic fields is planes, which were produced in large numbers and subtly differing designs to achieve specialised results.
Vintage tools should be sympathetically cleaned with oil or wax and kept dry, as these examples have been. This small selection ranges from the basic hammer to a burnished plane, which is an object of beauty in its own right. Prices range from £8 to £40.
One of the most collectable manufacturers is the Stanley tool company, founded in Connecticut in 1843, and still flourishing today.
Thomas Norris & Son were prestigious British toolmakers famed for their pre-war planes, often made from exotic woods. These start at several hundred pounds and reach many thousands. Whether you're a calloused constructor or dedicated displayer, I hope all dads down tools this weekend for some well deserved family time.