Carlton Ware pottery still going strong 130 years on...
Our antiques expert looks back at an impressive pottery brand that enjoyed a new lease of life under new ownership.
Thursday, 29th October 2020, 3:45 pm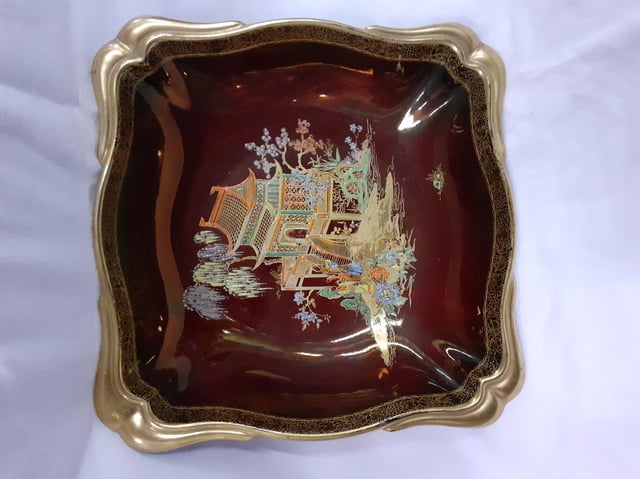 This dish is a lovely example of Rouge Royale. It is 55 pounds
In turbulent times like these, things can feel very impermanent. All the more reason to cheer for a perennially popular British company celebrating surviving an incredible 130 years in business: Carlton Ware.
In the Stoke on Trent Potteries in 1890, a group headed by J.F. Wiltshaw began producing pottery made to very high standards, a family link that would last 75 years.
Launching with a highly successful range of high quality earthenware, Blush Ware, Carlton Ware produced so many different models that there was always something new.
In 1929 they became the first manufacturer to offer 'oven to table' wares. Popular tableware produced throughout the 20th century includes Salad Ware, Handcraft, Contemporary,
Everyday, New Mikado, Windswept, Walking Ware and Coloured or Novelty Wares.
One of their most popular ranges for collectors remains Rouge Royale, characteristically intricate and embossed designs overlay a deep red background.
Dramatic designs like Fan, Bell, and Jazz embody the Art Deco era. Because of the high cost of production and loss of expertise, such exotic decorations will never be created again. Increasingly rare examples will usually fetch £100 upwards.
A nice area for collectors is their Advertising Ware, starting in the early 1900s with match holders and strikers for Bryant & May. From the 1930s breweries like Heineken commissioned ashtrays and water jugs to advertise in pubs and hotels. Most notable are Guinness's bar ornaments, modelled on the animals John Gilroy's created for their advertising campaigns, such as the famous toucan.
The 40's and 50's were when their Australian ware became very popular. These are pieces that are the shape of the actual item. For example an onion was an onion, a beetroot a beetroot and so on. The Australians loved these realistic fruits and veggies, and so Australian ware was born!
After the last Wiltshaw died in 1966, the company went through a series of buyouts, with a somewhat declining reputation. In 1997 Francis Joseph acquired the Carlton Ware name together with a small number of original moulds. It is a tribute to Francis Joseph and Carlton Collectors that today the name has been rejuvenated, and the products being made are once again eagerly sought after.
Thanks for reading. If you value what we do and are able to support us, a digital subscription is just £1 per month for the first two months. Try us today by clicking here