Are you a former Southlands pupil or do you recognise any of the famous faces from the school?
Were you a Southlands pupil in the late 90's and early 2000s? See if you recognise any of the former students pictured or any of the celebs that visited the school.
Tuesday, 25th August 2020, 1:41 pm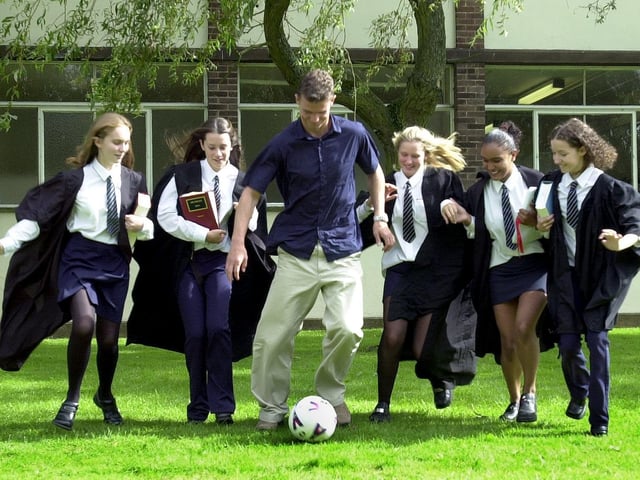 Pupils from Southlands High School, Chorley, who competed in the Magistrates Mock Trial Competition try out their football skills with Bolton Wanderers player Gudni Bergsson who is also a qualified lawyer
From Coronation Street stars, to famous footballers, to TV presenters Southlands High School in Chorley welcomed visitors with open arms. See how many you can recognise amongst our gallery:
Bob Champion chats with pupils Kayti Matthews, 12, left, and Katie Barker, 13, during his visit to Southlands High School, Chorley
Chorley MP Lindsay Hoyle meets pupils at Southlands high School, Chorley, for the first ever school surgery and youth forum.
Coronation Street actor William Roache MBE officially opens the new music and drama suite at Southlands High School, Chorley which was dedicated to Marjorie Gee, second from left, Chair of Governors at the school for 20 years. Also pi
Coronation Street stars Fred Elliott (John Savident please check) and young Jamie (Joe Gilgun) with pupil Nadia Barnes, 14, at the Southland's High School Primary School Quiz Final in Chorley
Footballer Kevin Nolan at the Southlands High School Quiz. From left, Matthew Rimmer, Adam Aspinall, Rachel Cartwright and Ciara Nicho
Former Manchester City and England player, Mike Sumerbee presents special awards to five Southlands High School pupils. They are, clockwise from rear left, Neel (correct) Byrom, David Moore, Shane Christie, Katie Thomas and Cara Owen
former olympican and world record holder for the mile Derek Ibbotson and right ex-England footballer Stuart Pearce with Rachael Kaminski, 14 and Imran Namajee, 14 at the Southlands High school award assembly
Jimmy Armfield with the Southlands High School Achievers, from left, Hayden Clelow, Stacey Williams, Clare Nolan, Hannah Kay, Chloe Millard and Sarah Lawson
Liverpool FC player Jason McAteer gets a little help from Charnock Richard school team memberRachael Bridge, 10 and St George's team member Martin Bamford, 10, during the Schools Quiz Final at Southlands High School
Neil Midgeley, shows the yellow cheque, which he received from Southlands high school Enterprise Group chairperson, Kate Fearnley, who is also pictured presenting another cheque to Wishing Well Appeal chairman Jack Gardner.
News presenter Gordon Burns with Southlands pupils Michelle Worthington (left) and Jane Holt
Ronnie Clayton, Roy Hartle and Tom Finney, join Southlands Headmaster John Lawson, rear right, in congratulating Soutlands Annual Achievement Award winners
Roped-in...Southlands High school pupil Ben Turner, twelve, wearing Ensley 'Bingo' Bingham's, centre, British Light Middleweight champ, and Manchester based professional boxers, Chris Barnett, left, and Carl Thompson
Southlands High School pupil Simon Grand signs for Blackpool FC watched by Blackpool chief youth scout, Fred O'Donoghue, right, and deputy head Brian Souter.
Southlands High School, Chorley, pupils share a joke with proffessional comedian Stu Who when he visited the school to hold a comedy workshop promoting the Fanta Comedy Awards 1999
Wigan Athletic footballer Roberto Martinez helps pupils from Southlands High School to brush up on their spanish during a visit to the school. The pupils are, Kara Slack from year 9 and Philip Moss of year 10
Coronation Street actress, Shobna Gulati, meets year 11 pupil, Kay Williams, 15, winner of the Southland's High Pop Idol contest
Southlands High School pupils Laura Bortfield, 14, (left and Deborah Collins, 14, can barley listen as visiting horror author Stephen Gallagher reads from his latest novel.
Manchester Storm Ice Hockey player Nick Crawley, is on hand to keep things under control during an In-Line Hockey coaching session The two pupils coming head to head are, 14 year olds Leigh Byrom, left and Chris Clark