Antique engagment rings can be a romantic gesture
Our antiques expert Allan Blackburn takes a look at vintage wedding jewellery...
Wednesday, 26th February 2020, 5:00 pm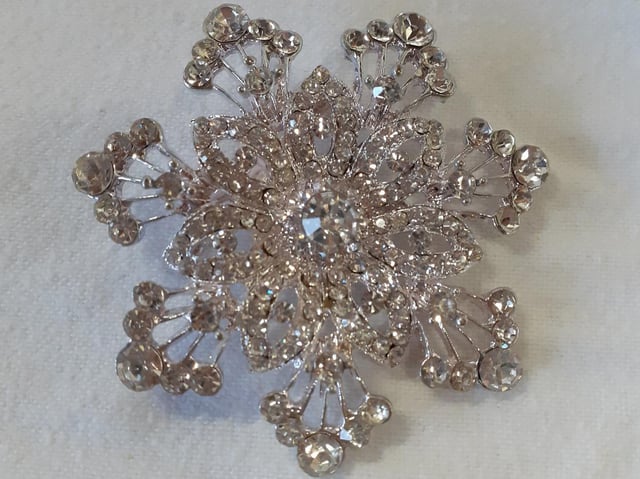 This gorgeous sparkly brooch is on sale for just ten pounds
This year is a Leap Year, and as February 29 approaches, are you doing anything special on your 'extra day'? With it falling on a Saturday this year, it's a great opportunity for some antique hunting!
We're going unashamedly romantic this week, as traditionally on 'Leap Day', women were 'allowed' to propose to men! Before you protest, of course we have happily moved on to more equality, but in heterosexual couples, over 90% of proposing is still done by men.
With romance and marriage steeped in tradition and superstition, it got me thinking about wedding customs and collectables. A couple's journey to the altar is marked by traditional items we have been gifting and wearing for centuries: rings, gowns, shoes, veils, garters, cufflinks and bouquets.
In the tradition of "something old.. something borrowed", a refreshing number of couples choose something antique or vintage, most commonly engagement rings. Antique jewellery is a tangible link to past generations, especially wonderful if it has been passed down your own family.
As engagement and wedding rings are usually worn constantly, it is vital to check antique rings carefully. Antique stones can be fragile, so check for hairline cracks and chips. If the setting looks loose, it is perfectly acceptable to request resetting or negotiate a lower price to cover the cost of doing so. Resizing antique rings is easily done and should not affect value.
Vintage wedding jewellery does not have to be restricted to rings. This sparkly brooch is a lovely example of an ethical pre-loved item that will add a bit of personal history and romance to the day. It is on sale at the centre for just £10.
So how about the 'tradition' that an engagement ring should cost one, two or even three months' salary? It was actually invented in the 1930s by jewellers De Beers to counter the effect of the Depression on the diamond market!
Antique diamonds are very popular and hold their value. Often cut by hand, as no two are identical this gives them their allure. Coloured diamonds are exceptionally rare with pink, yellow and blue diamonds fetching large sums at auction. Most importantly, for such an important personal choice, investing time and patience is vital to sourcing just 'the' right piece. This is not a time where "It'll do" will make for Happy Ever After!