Warning to trainspotters as famous steam engine heads to Lancashire
Railway enthusiasts are being urged not to crowd station platforms and bridges this weekend in an attempt to see historic steam locomotive Princess Elizabeth pulling one of the world's most luxurious trains through Lancashire.
Thursday, 1st October 2020, 5:00 pm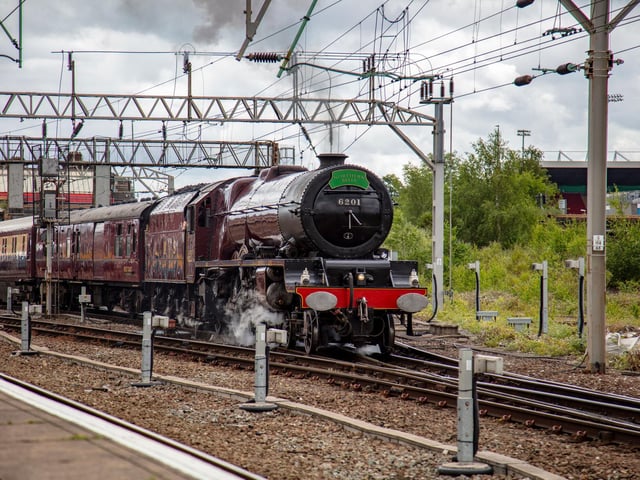 Princess Elizabeth is heading to Preston but officials have issued a warning over crowds. Phoro: Cameron Pitts
Enthusiastic crowds packed Preston station last year to photograph Flying Scotsman hauling the Northern Belle's 1930s-style Pullman carriages but a spokesman for the company said: "Because of Covid-19, we are asking people to be act responsibly on Saturday.
"We fully understand people wanting to see the train and we don't want to spoil anyone's fun. But the safety of our passengers, staff and the general public must come first.
"That is why we are appealing for everybody to wear masks, remember the two metre rule and act responsibly.
"There have been reports from other parts of the country of people crowding platforms to photograph steam-hauled heritage trains like the Northern Belle and we don't want that to happen in Preston."
Crimson-painted Princess Elizabeth cost just £11,675 when it was built at Crewe in 1933 and named after the then seven-year-old queen-to-be. Later it was to pull the Royal Train while she was aboard.
And in 1936 it broke the world speed record for a long-distance passenger train, maintaining an average 70.15mph while hauling eight carriages for more than 400 miles.
The Northern Belle's Pullman carriages once formed part of the iconic Orient Express train. Each is named after a historic castle or stately home and features hand-woven tapestries, marquetry and mosaics.
Passengers will tuck into a champagne brunch as they travel over the picturesque Settle to Carlisle line on Saturday morning before being served a slap-up five-course meal as they return via Carnforth and Lancaster in the afternoon.
The Northern Belle will return to Preston in November for a special Fireworks Dinner trip and then on Saturday, December 19 for a festive Christmas Lunch special. For full details phone 01270 899681 or see www.northernbelle.co.uk.
Princess Elizabeth leaves Preston at 10.03am on Saturday, October 3 passing through Garstang at 10.25am arriving at Lancaster at 10.38am and leaving three minutes later.