Village honours its war dead with special plaques on their homes.
The village of Croston paid a heavy price for freedom, losing more than 50 of its sons in two world wars.
Tuesday, 29th December 2020, 7:00 am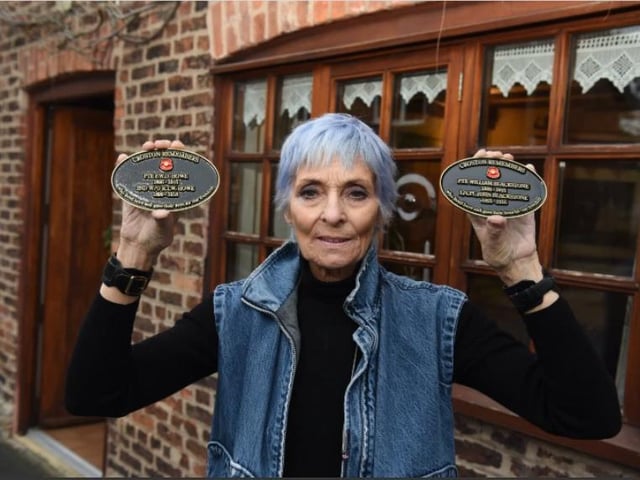 Kath Almond with two of the 48 hero plaques.
Now their former homes will bear a lasting memorial to their courage and sacrifice after a fund-raising effort by grateful villagers.
Each house will display a special plaque to identify the individual servicemen and give details about their service.
"For a little village I think we lost a lot of young men," said Kath Almond who launched the memorial idea with her friend Anne Sandwell. "Even the local squire lost a son.
All the village's fallen are being remembered.
"It's been quite emotional doing all the research - most of these lads were only 18, 19 or 20. They left their homes in Croston to go to war and never returned.
"We have a war memorial in the village. But these plaques are more personal. They will be attached to the houses where they lived as a permanent reminder for the whole village of the sacrifice they made."
Kath and Anne, who run the Croston Village Archive, decided to follow up on an idea by the local church two years ago to put wooden posts in the gardens of fallen servicemen to mark the 100th anniversary of the ending of the First World War.
The pair carried out months of painstaking research to identify troops from the village killed in both wars - 36 in WW1 and 12 in WW2 - and set about raising almost £1,500 to pay for the plaques which carry the details of each serviceman.
Anne Sandwell and Kath Almond who have organised the commemoration.
"We have come up with 52 in all and, because there were more than one from some houses, we've got 48 plaques," explained Kath. "Everyone we have approached about having a plaque on their house has been brilliant.
"We've still got a few to find because a couple of houses have since been demolished and others can't be pinpointed exactly because the records don't show a house number. But I think we have more or less covered everyone.
"One of the soldiers was called Henry Almond, a distant relative of my own husband.
"We started this before lockdown. It's been really interesting and has taken longer than we thought it would, but we wanted it to be right.
"These boys deserve to be remembered for what they did. The village is very proud of them.
"Now their names will be on view not only on the war memorial, but also on the homes where they lived."