Preston pranksters leave Valentine's Day cards and chocolates in memory of Fishergate Bollard
The concrete bollard - which retired from the Preston traffic scene last year - has been the recipient of dozens of Valentine's Day cards this year.
Friday, 14th February 2020, 2:14 pm
Updated
Friday, 14th February 2020, 2:49 pm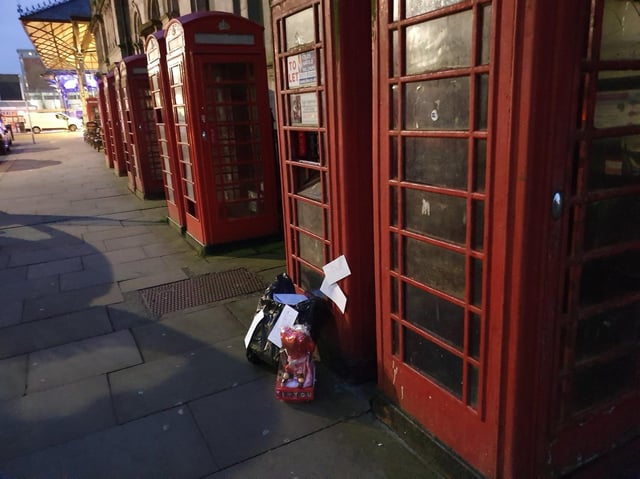 Valentine's Day messages for the infamous Fishergate Bollard have been placed at the door of another of the city's celebrated landmarks - the Preston phone box near Preston Market
The famous bollard is most likely blushing in its gravelly grave today, after pranksters left Valentine's Day cards and chocolates in its honour.
Arguably Preston's most controversial inanimate object, the bollard - affectionately known as 'Bolly' - bit the dust last year after a series of scrapes with Fishergate motorists.
Bolly was removed with little fanfare last May, but its memory lives on in the restless hearts of admirers who continue to mourn its loss.
Today (February 14), a bin liner full of Valentine's Cards addressed to Bolly were left at the door of another city landmark - the Preston phone box.
Tweeting this morning, the forlorn phone box said: "Thought my first sack of #ValentinesDay cards had arrived until I realised @FishergateBllrd had been using me as a mailing address..... #Prestoninanimateobjects #nobodylovesme"
The bollard, whose spirit seemingly lives on via its own Twitter account, expressed its gratitude to its nearly 4,000 followers.
"Thanks Preston xx", tweeted the bollard, accompanied by heart and kiss emojis.
Valentine's chocolates and a bin liner full of love letters has been delivered to the Preston landmark today (February 14)