Preston flies the flag for the Windrush Generation
Preston's pride in its links with the Windrush Generation reached new heights today when a special flag was unfurled on the Town Hall.
Monday, 22nd June 2020, 5:00 pm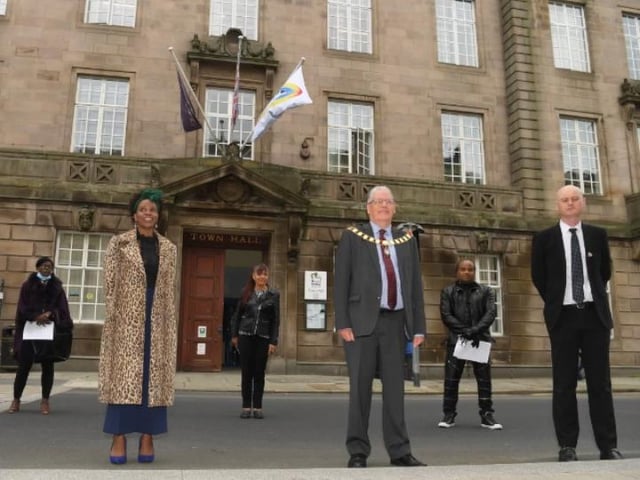 The Mayor, Coun David Borrow, with Glenda Andrew and council leader Coun Matthew Brown.
The city paid a heartfelt tribute on Windrush Day to the workers and families who came to Lancashire from all parts of the Commonwealth, particularly the Caribbean, to rebuild Britain after the Second World War.
And descendants of those early settlers were at the ceremony when Preston's Mayor, Coun David Borrow, hoisted the Windrush flag.
The flag, a new design that is being flown in cities and towns across the UK, celebrates the contribution of Caribbean culture and those who moved to the UK from other countries across the Commonwealth.
The Windrush flag flutters above the entrance to Preston Town Hall.
The Mayor said: "The raising of this flag on Windrush Day recognises the struggle endured by the Windrush generation.
"It also marks the vast and continued contribution people from across the Commonwealth have made to Preston and the UK as a whole through music, food, business and their invaluable addition to our NHS and frontline services.
"I am proud to be part of raising this flag and saying 'thank you' to everyone who has added to the rich cultural tapestry of our city."
The flag was raised above the door of Preston Town Hall in a ceremony attended by the leader of Preston City Council, Coun Matthew Brown, as well as members of Preston Windrush Generation and Descendants UK.
Celebrating Windrush Day on the city's Flag Market.
Glenda Andrew, co-founder of the descendants' group added: "The Windrush generation came from every corner of the Commonwealth, including the Caribbean, to make a new life in the UK.
"On Windrush Day we're proud to raise this new flag and honour those who came before us who've added so much to this country and to Preston from music and soul food to business and frontline workers who are an integral part of the NHS and our wider community.
"Raising the Windrush flag in locations around the UK, including here in Preston, is monumental and we're proud to stand on the shoulders of those the Windrush Generation who came and are still here.
"We acknowledge and remember their lives, their struggles and, for some, their wins."