How you can see the splendour of the Orient Express in Preston
An historic steam locomotive that was named after the Queen and used to regularly thunder through Preston hauling crack expresses between London and Glasgow is heading back to the city this summer.
Friday, 7th August 2020, 12:30 pm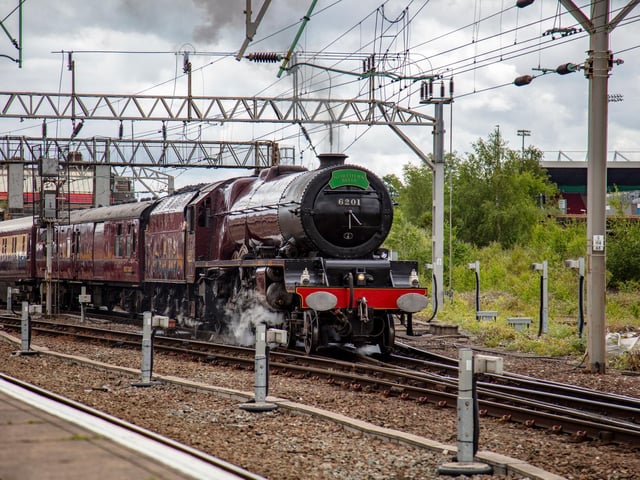 Princess Elizabeth
Hordes of trainspotters and railway enthusiasts are expected to turn out to watch the crimson-painted Princess Elizabeth pulling the Northern Belle, one of the world's most luxurious trains and once part of the iconic Orient Express.
And it promises to be a right regal occasion for pampered passengers too as they tuck into a slap-up five-course lunch with wine during a round-trip day-out over the Settle to Carlisle railway line, which has been voted the second greatest train journey in the world.
For not only did the 83-year-old engine – nicknamed "Lizzie" – haul the Queen's Royal Train during her Diamond Jubilee Celebrations, but Her Majesty also used one of the ornately-decorated 1930s-style Pullman carriages that now make up the Northern Belle.
Businessman David Pitts, who bought the Northern Belle from the Orient Express Group three years ago, laughed: "If it is good enough for the Queen, then I guess it is good enough for our passengers.
"Flying Scotsman hauled my train on a couple of wonderful trips from Preston last year and these two new excursions with Lizzie promise to be just as magical.
"This beautifully-engineered locomotive was built in Crewe in 1933 for only £11,675 – barely the price of a decent car these days – and named after the Queen when she was just a seven-year-old schoolgirl.
"Then in 1936 Lizzie broke the world record for a long-distance passenger train, maintaining an average 70.15mph while hauling eight carriages over 401miles."
The Northern Belle trips from Preston will operate on September 19 and October 3, departing at 10.30am and scheduled to arrive back at 6pm.
Passengers will be served a glass of champagne on boarding before tucking into brunch on the outward journey to Carlisle.
After a brief stop in the city, they will be welcomed back on board with more champagne before sitting down to lunch with wine as the train heads south over the magnificent Ribbleshead Viaduct to Settle.
The Northern Belle train will also be visiting Preston this Saturday (August 8) when it will be hauled by a heritage diesel locomotive to Edinburgh. This time brunch will be served on the outward journey, followed by a five-course dinner on the way home again.
Fares start at £310. For more details see northernbelle.co.uk or phone 01270 899681.