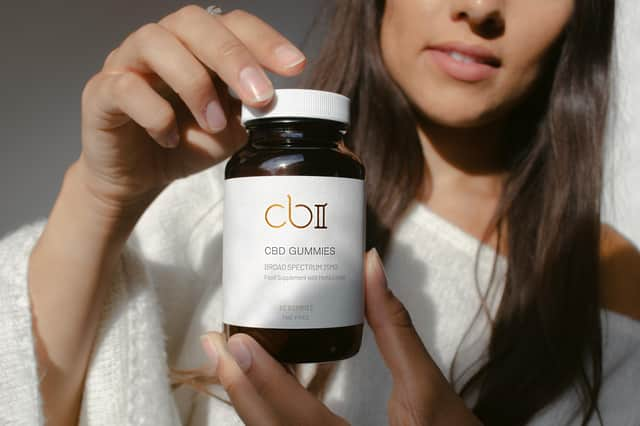 CBD is big news in the wellness world – want to know more?
Considering the stress and unpredictability that the last two years have brought, it's no surprise that many of us are exploring ways to boost our mental wellbeing in 2022.
CBD is a cannabinoid found in the hemp plant, and research suggests it may be a helpful tool in combating a range of health issues including insomnia, anxiety, depression and chronic pain.
If you're a regular shopper for food supplements, it's likely you've noticed the CBD trend emerging
There are all sorts of ways you can consume CBD: think CBD capsules, tinctures and vapes. But it's CBD gummies that are soaring in popularity, with users lauding their pre-measured dosages, fun shapes, portability and tastiness.
In this buyer's guide, we've rounded up seven of the highest quality CBD gummies, weighing up all the factors to help you decide.
Our number one spot for high-quality CBD gummies goes to CBII's chewy fruit jellies. With each jar offering four flavours (watermelon, tangerine, lemon and raspberry), CBII's gummies combine strength, texture, flavour and quality for a top CBD edible offering that also wins on price. To boot, the gummies are also free from artificial preservatives, use colours extracted from natural ingredients, and are fully vegan.
Care has also been taken to ensure there's none of the bitter, herbal aftertastes that some hemp products are known for.
Each gummy contains 25mg of 'broad-spectrum' CBD, meaning they're powered with complementary cannabinoids from the hemp plant that can strengthen the overall effect of CBD.
The CBD itself is sourced in Oregon - the most strictly regulated market in the US. From there, CBII works with Swiss manufacturer Linnea to extract the CBD using a patented method that's gentler and more eco-friendly than many alternatives.
From seed to shelf, the gummies are pushed through a five-step lab testing process. Independent verification ensures dose and quality remains standard across the board.
2. Zen Bears CBD Gummies, £39.95 for 30 gummies, 20mg per gummy
Like CBII's gummies, Zen Bears' gummies are fully vegan. Offering 20mg of broad-spectrum CBD per dose, fans consistently rave about the texture and taste which closely mimic that of a standard gummy bear.
Additionally, Zen Bears prioritises the transparency of its products, marking each glass jar with its unique batch number. This makes it easy to track down the third-party lab results so you can verify the gummies' potency and quality.
And if you're after quick delivery of CBD, Zen Bears could have a good edge: instead of being infused with CBD, these edibles are pharmaceutically coated with it, meaning the extract diffuses on the membranes in the mouth for faster delivery. However, you need to make sure you keep the gummy in your mouth for 60-90 seconds to get the full benefit.
3. Indica Beauty CBD Gummy Worms, various tub sizes and gummy strengths
Sold in 400mg, 1600mg or 4800mg tubs, Indica Beauty's colourful worms administer doses of 20, 23, or 68.5mg of broad-spectrum CBD per sweet, depending on which tub you opt for.
Across all dosages, the worms make use of ingredients such as turmeric, organic cane juice, and grape juice for a flavour that bursts with sweet fruitiness.
Better yet, Indica Beauty uses a solvent-free method to extract the CBD; a strategy that strips away unnecessary chemicals to provide a clean CBD experience.
4. Medterra CBD Gummies Keep Calm, £34.99 for 30 gummies, 25mg per gummy
Medterra's CBD gummies - which come as a bag of simple orange cubes in a tropical punch flavour - may not look as fun or varied as other options on this list, but they certainly deliver in terms of taste, texture and dosage.
Alongside 25mg of CBD isolate per gummy, the squares are also packed with beneficial ingredients turmeric (an excellent antidote for inflammation) and L-Theanine (an amino acid that could be useful for improving overall mental function).
It pays to note that because the gummies use CBD isolate (instead of broad or full spectrum CBD), there will be no complementary cannabinoids present in each sweet, which can make the effects of the dose feel less pronounced.
5. CBDfx Multivitamin for Women/Men, £50 for 60 gummies, 25mg per gummy
These fuss-free discs, available in both men's and women's versions, don't offer the novelty of some other options on this list.
However, as well as being loaded with 25mg of broad-spectrum CBD, they're packed with vitamins that support overall health, such as vitamins A, C, D3, and E, and minerals such as calcium and zinc.
These gummies are just one option in CBDfx's range that call on supporting ingredients to deliver wider health benefits - chamomile formulations are also available to support sleep, while turmeric and spirulina options can help to ease inflammation.
6. Excite CBD Gummies, £54.95 for 30 gummies, 25mg per gummy
Based in Glasgow, Excite CBD is a family-run business that prides itself on customer service, with a mission to make CBD - and its benefits - available to as many people as possible.
They stock a range of CBD products, including vape juices and cooling creams, but it's their jewel-toned gummy bears that users claim are a certain standout. With 30 in each jar, the gummies come packed with 25mg of CBD, and burst with a pleasant tropical flavour.
Using hemp sourced from organic farms in Colorado, the gummies employ a broad-spectrum extract to deliver a strong CBD experience - however, at £54.95 a jar, they are one of the more expensive options on the list.
7. Cannaray CBD Gummies, £18 for 30 gummies, 10mg per gummy
With just 10mg of CBD isolate per gummy, these zesty discs are a solid option for those who are looking for a lower dose of CBD, and who want to avoid even mild traces of THC.
The gummies are vegan, free of sulphates and GMOs, and use rich, natural colouring from pepper and carrot to create a deep orange hue. With a juicy, zingy taste, they make for a wholly pleasant chew, and lab reports are readily available on the website.
CBD comes from hemp - a plant in the cannabis species. However, it's entirely different from its cousin THC - the cannabinoid responsible for marijuana's psychoactive effects. While trace levels of THC may be present in some CBD products, this amount of THC must be less than 0.2 per cent to be sold legally in the UK.
How much CBD should you take a day?
The FSA guidelines advise against exceeding 70mg a day. Once you've got the all-clear from your medical professional to start taking CBD, it's recommended that you start out small with your dosage. From there, keep track of how your body feels before increasing it.
Which type of CBD should you look for?
Above, we've touched on the fact that CBD isn't the only cannabinoid you'll find in the hemp plant. There's a whole collection of compounds that, when taken at the same time, boost each other's effectiveness. This phenomenon is called the 'entourage' effect, and whether or not your form of CBD gives this effect will depend on whether these cannabinoids have been stripped out while the hemp was being extracted.
- CBD isolate has gone through a crystallisation process to remove all other compounds. This means your dose will contain pure CBD, which can be a good option if you want to avoid even trace amounts of THC. However, consuming an isolate dose means you won't experience the entourage effect.
- Full spectrum CBD is the rawest form of CBD, coming complete with a host of other cannabinoids present in the hemp plant. This means it can have a more botanical taste, and higher levels of THC.
- Broad spectrum CBD is similar to full spectrum, as it's also jam-packed with other cannabinoids. However, during the extraction process, the manufacturer has stripped out the THC. This means the CBD comes in under the legal UK limit of 0.2% THC, but still delivers the entourage effect.