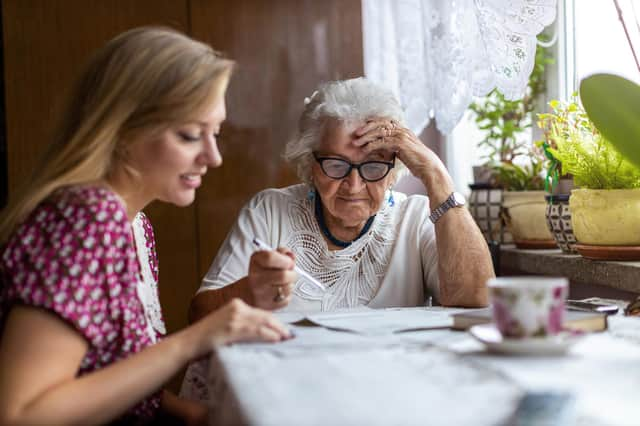 Stay active and independent in your own home – this care provider delivers quality individual care whatever your needs
But finding quality care, which is tailored to your lifestyle and your tastes, can be difficult.
When Westmorland Homecare was set up four years ago it aimed to do just that. Its services at Kendal and Poulton are rated 'Outstanding' by QCQ inspectors – one of only a handful to attain such high ratings from over 17,500 care providers in the UK.
It all started in Kendal in the Lakes but demand grew quickly and it now has offices in Lancaster, Poulton-le-Fylde and Grange-over-Sands. With clients aged from 25 to 102 it has a wealth of experience in all aspects of home care and can accommodate a wide variety of needs. Because it prides itself on the recruitment, training and retention of top quality staff it is a hugely attractive employer in this field therefore has low staff turnover, meaning it is now in a position to take on new clients.
Westmorland Homecare was founded by Dr Josh Macaulay and Dr Chris Moss with co-director Russell Crossley. They had experience of caring for people in their NHS roles as an A&E doctor and anaesthetist, as well as family experience, but wanted to help people more than just whilst in hospital.
All three frequently saw people coming into hospital after having poor care at home and, conversely, saw people who couldn't return to their own homes because the right support wasn't available for them.
This was when Westmorland Homecare was born.
"We believe that no longer should people be forced into care homes and nursing homes, no longer should people suffer ill health and poor quality of life," says Chris.
"Every individual should be free to remain in their home as long as they wish, they should be able to be as active and independent as ever before and should continue to have rich and fulfilling lives."
Clients can expect a familiar face who really knows the person they are spending time with.
Daniel Stainer, manager of the Lancaster office which opened in February last year, explained: "Other care providers may send different people out each time, but we have a very small team around each client. We ensure we spend time getting to know them intimately and we promise you will never have an unfamiliar face at the door."
This starts right from day one. Anyone contacting Westmorland Homecare will get a visit from a care co-ordinator – this is a free assessment done in your own home. Each person is assigned a care co-ordinator to ensure they have the right care all the time and so that clients and families know they can talk to someone who really knows them.
"We start to build that relationship even before they start with the first care visit," said Daniel. "We offer help with lots of different activities and it's about living life to the full."
Care can come in many forms, but the main four pillars of support at Westmorland are companionship, such as accompanied theatre visits, walks, a chat; personal care; home help and medication.
Some people may have 70-100 hours of care time per week, whereas others may just require just three hours per week. It all depends on the needs of the client – and that's why Westmorland say they are truly "client focussed" – the care you receive is the care you, and your lifestyle, dictate.
"It's about increasing people's independence to allow them to stay in their own homes," said Daniel. "We have some clients who have very complex needs and others that are not complex at all."
Care is offered between the hours of 8am and 10pm and with staff rates of up to £19 per hour, Westmorland pay above the going rate for quality carers because they want to offer a quality service. New staff spend weeks in training and shadowing existing home carers before they go out on their own.
"We are trailblazers," said Daniel. "We want to change the perception of care work. We have amazing staff and are very lucky to have people who are really passionate in providing quality care. If your staff are well trained and supported and happy, they will be providing the top-quality, high-end care we offer."
One client said: "All staff are exceptionally kind and do anything I ask them to. They do spend a lot of time with me and don't rush off – I wish we had found them sooner."
Another said: "The carers were remarkable and every single one treated me with respect, compassion and dignity. Nothing is too big or small, they are willing to help and be flexible."
If you are looking for quality home care then speak to the team at Westmorland Homecare. Call the Lancaster office for an informal chat on 01524 956240 or email [email protected]