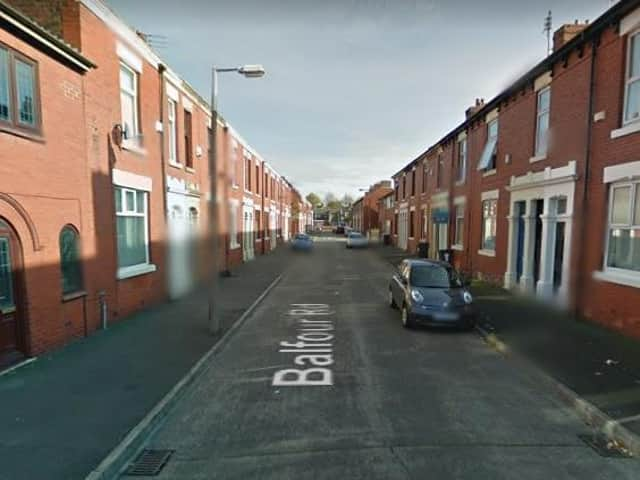 Google street view of Balfour Road in Fulwood
Police were called around 7.45am today (Saturday, February 8) after a man was found unresponsive at an address in Balfour Road, Fulwood.
Paramedics pronounced the man dead at the scene.
His death is currently being treated as unexplained and enquiries are on-going to identify him.
Police have cordoned off the area
Det Ch Insp Becky Smith, of Lancashire Police, said: "An investigation is underway following the death of a man in Preston.
"These are tragic circumstances and my thoughts are with the man involved at this time.
"While we have made three arrests, we are keen to speak to anyone who can assist with our enquiries.
"If you have any information, please come forward."
Police have cordoned off the area
Three men aged, 50, 31 and 29, all from Preston, have been arrested on suspicion of murder and are currently in custody.
Laura Whitside, 33, who lives in Balfour Road said she noticed the commotion on the street at around 8am.
"I've never known who lives there, how many people or if it's students" she said. "I don't think it's a family.
"There was a lot of drama. You just don't think it happens on your street.
Police have cordoned off the area
"We knew it was something serious with the amount of police who were around. They had blocked off the street. An officer stood outside the house so we knew it was serious.
"Everyone around here keeps themselves to themselves.
"There were two ambulances and police all day and two crime scene investigators were also here."
Another resident, who does not want to be named, said: "It was very worrying.
"Normally I feel safe on this street. I've been living here for one and a half years.
"It's still scary that something like this can happen."
Callum Gallager, 23, told the Post that he woke up to sirens this morning.
"I came out to go to work at about 9.30am and they had cordoned off the door," he said.
"There was an Ambulance on the corner but apart from that I didn't see much.
"I've only been here since August but it's not a bad street, it's odd."
Detectives are urging anyone with information to contact police on 101 quoting log 0349 of February 8.