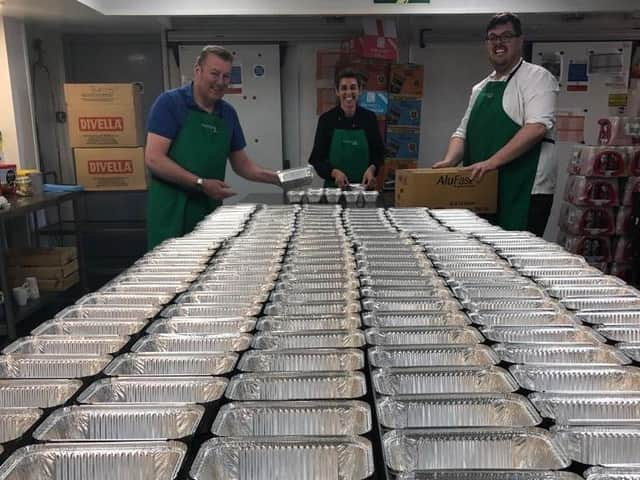 Trays ready for the big feed at Westholme School
Tomorrow, Westholme School is cooking 1,000 meals for the most vulnerable across the area.
The tasty treat is part of an initiative launched by caterers Thomas Franks who supply the Blackburn independent school, which will see 10,000 meals distributed in a day across 14 towns and cities.
Staff at the school, which has a host of from Preston, Leyland and Chorley, are coming out of furlough to volunteer for the activity.
Westholme School catering boss James pate
James Pate, catering manager at Westholme School said: "We will be producing 1,000 high quality balanced meals to help feed the most vulnerable this Thursday for the Big Feed."
He added: " All the kitchen staff have been furloughed while the school is closed, but most have volunteered to come back in to help with this project.
"We will be cooking a meat, halal and vegetarian option from the kitchens at the infant school and working in shifts to adhere to social distancing.
"Not only are we helping to provide meals to those who need them, we are also helping our supply chain and doing something for our community."
Frank Bothwell, Founder of Thomas Franks, added: "This is a wonderful initiative, which I am proud of. It is more important than ever right now to serve our communities.
"I am so grateful to Westholme for opening their catering facilities and for their ongoing support throughout this uncertain time, by working together we can achieve so much. This coming Thursday, we are giving back and we cannot wait to make a real difference."
Besides The Big Feed project, Westholme are providing an additional 770 hot meals thanks to funding from the Thomas Frank's Foundation and Newground.
James added: "Doing something that is helping so many people gives you such a good feeling. This funding has allowed us to reopen the kitchens and enable Westholme to give back to the people who need it most."