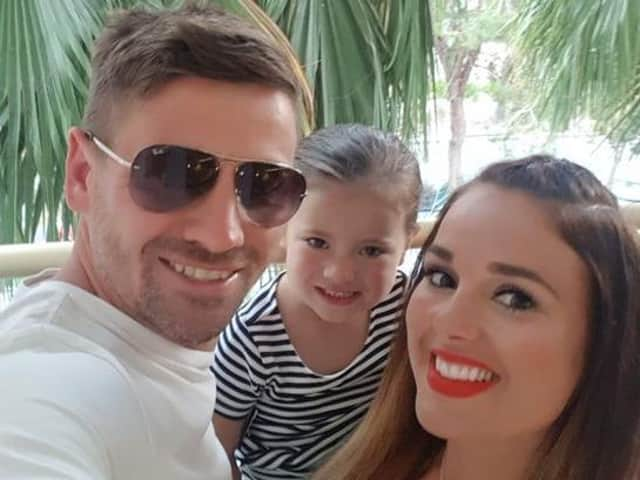 There is widespread support for Dave 'Kenny' Cram and his family
David Cram, better known as Kenny, was left fighting for his life last month after being placed in an induced coma as medics worked to beat the deadly condition.
To support a £50,000 fund-raising appeal for Kenny and his family, car show organisers Twisted Performance UK are bringing more than 100 cars to the Detail Garage at Dollywaggon Way, Bamber Bridge on Sunday.
The event takes place from noon until 4pm and will feature a display of high performance cars including Ford Mustangs, Ford Sierra Cosworths and Nissan Skylines.
A show by Twisted Performance UK in Cleveleys last year
There will also be hot food from a burger van and a raffle on the day, including prizes offered by Blackpool printing and photography firms.
Thornton man Mike Penney, of Twisted Performance UK, who stages family-friendly car shows across the country, said: "A friend of mine knows Kenny and when she told me what had happened I just wanted to help.
"I asked the Detail Garage if we could stage it outside their premises and they were only too happy to help."
The online fundraiser for Kenny has now reached £40,826 and has attracted fabulous support from friends in Blackpool and people in East Lancashire who know him as a delivery van driver for DPD.
He is even nicknamed 'DPD Dave' by customers.
The appeal has reached a wider audience and chart-topping singer and TV star Olly Murs has also supported it with a £2,000 donation.
Laura Harvie, the best friend of Kenny's wife Keeley created the page to support the couple and their five-year-old daughter Robyn.
The money raised will be used to support the 40-year-old and his family through the difficulties they face, including adapting his three-bedroom terraced home following his surgery
Kenny, 40, of of Glastonbury Avenue, said in a statement shared by his family last week: "I've been overwhelmed by people's kindness and want to say a massive thank you to everyone who has helped."
To donate, visit www.justgiving.com/crowdfunding/kenny-cram