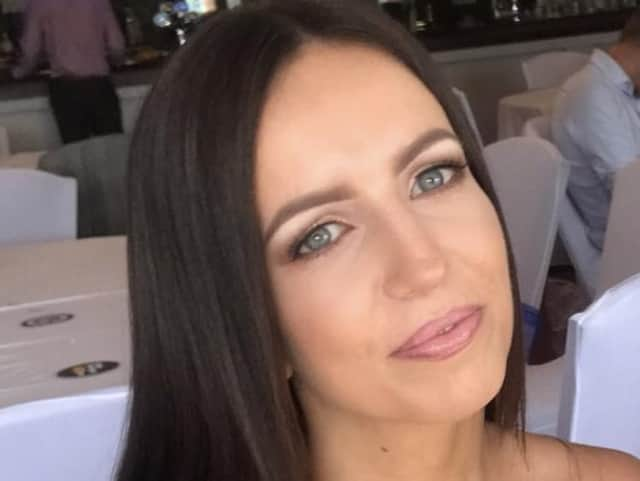 Morecambe mumLauren Maguirediscovered she had skin cancer at just 24-years-old after noticing a mole on her leg had changed.
Morecambe mum Lauren Maguire discovered she had skin cancer at just 24-years-old after noticing a mole on her leg had changed.
She was lucky to catch it early by regularly checking her skin. But a national charity fears that many other young people could be sitting on a ticking time-bomb with cancer symptoms going undiagnosed, as referrals from GPs plummet by up to 75%.
The Teenage Cancer Trust says seven 13-24-year-olds receive a cancer diagnosis every day in the UK in some areas - but for the first time ever, also in some areas, the charity has seen no new cases since lock-down began.
Lauren's scar on her leg following a skin graft to eliminate her cancer.
Lauren, now 27, who had no other symptoms, said: "It's definitely a shock when you get it so young. I felt alone and isolated at times because you don't often hear of it in young people."
The mum-of-one, who works in a special needs primary school, added: "I did think, 'why me?'
"I am guilty of sometimes using sunbeds before or after holidays but I've always worn sun cream."
While teenage cancer is rare, the charity says it is vital that young people know the signs and symptoms, mainly lumps, bumps, moles, swelling anywhere in the body, unexplained tiredness, persistent pain, and significant weight change, especially weight loss.
Dr Louise Soanes, the charity's director of services, says it has received reports that youngsters are nervous about burdening their GP or NHS during the coronavirus pandemic, therefore delaying diagnosis and increasing their risk.
But Dr Soanes, a nurse consultant to two hospitals, is urging them to make the call if they come across any changes in their body that worry them.
This is especially important as it takes longer for young people to get referrals – they visit their GP up to three times before receiving one - according to the charity.
"The sooner you can get a diagnosis, the sooner you can get treatment, and your survival is likely to be better," said Dr Soanes.
"Don't be afraid and sit at home and worry. The NHS is open - it is there to help you. And if you have a chat with your GP and still feel worried, go back for another.
"As a teen, your body is changing all the time, so it's important to know it and recognise what's normal for you."
That is why the organisation has launched a campaign called #BestToCheck to help educate young people and their families about the signs of cancer.
Lauren, who is backing the campaign, knows all too well how important an early diagnosis is.
"I was just shaving my legs in the bath when I realised a mole had grown darker and larger," she said.
"I started putting concealer on it but my boyfriend told me to get it checked out.
"The GP wasn't overly concerned but they referred me to a dermatologist at Royal Lancaster Infirmary."
The mole was removed for testing and seven weeks later she was called to a meeting with her parents and doctors.
She was told she had malignant melanoma - a type of skin cancer that can spread to other organs in the body - and would require further surgery.
"It was weird because it felt like they were talking about someone else," she said.
"We then went home trying to get our heads around it and were distraught."
That's when Teenage Cancer Trust reached out to further explain her circumstances.
Treatment comprised skin grafting, which is a surgical procedure in which skin was removed from her stomach and transferred to her leg. She also had some lymph nodes taken out to test if the cancer had spread.
Four weeks later, she had all of her lymph nodes in one leg removed. But it was worth it, with tests then coming back clear.
However, as this type of skin cancer is not easily detectable, Lauren must have check-ups every three months.
"The emotional impact has been quite severe," she said.
"A couple of years before my diagnosis, I struggled with health anxiety and was worried about getting ill.
"So, I found my cancer diagnosis hard at first, especially as I was young. I had good days and bad days."
Commenting on the insecurity she felt after her skin graft left scarring, and the removal of her lymph nodes left her vulnerable to swelling, she added: "You feel like every life situation is taken out of your hands."
But Teenage Cancer Trust helped her to rebuild her confidence by inviting her to meals with other young patients, who shared their stories with her.
These days, she says, she wears her skin graft "with pride".
Lauren, who now has a 10-month-old daughter, added: "Today, my life is great to be honest. My daughter will be one in two weeks and I've just been on maternity. I can exercise again and my well-being is great.
"I'm feeling really positive.
"I had another mole removed, from my back, a month ago as a precaution, and my check-ups are going well. Life is good."
And that's why she is urging other young people - who have their whole lives ahead of them and numerous opportunities for happiness - to seek help before it is too late.
As she added: "I think we caught my cancer early. I'm thankful I went to the GP when I did because if it had been weeks or months later, it could have been completely different."