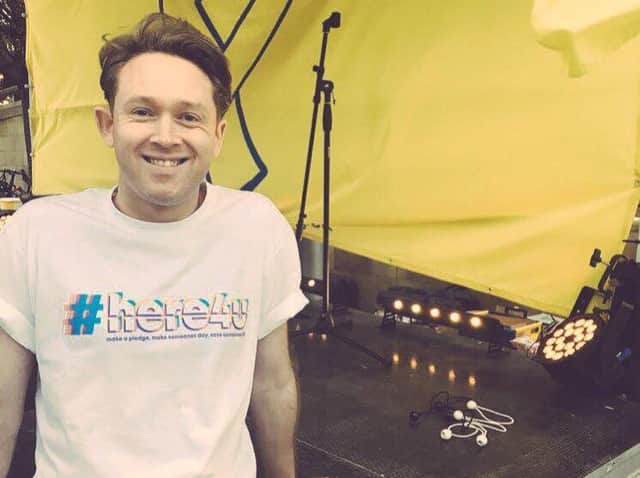 Campaigner and actor Dan Westwood
After suffering from anxiety and panic attacks whilst on stage and filming, the 34 year-old actor and presenter is running the campaign to represent the 'dark and dangerous' side to the internet and pressures of social media.
"Struggles with anxiety and depression are rife in our profession, you can be so busy with work and then it just hits you," he said.
"I would find myself emotional and overtired, especially whilst touring. I used to tour with CBeebies and would need to be high energy all the time, and would end up crying in the wings or on set.
"I realised that recording video messages means we can offer a hand to people who are struggling and gives them an opportunity to speak out."
The movement reached over 25,000 retweets on Twitter in its first day of launching, with Coronation Street actress Georgia Taylor uploading the first video for the campaign.
The campaign is especially close to Dan's heart, after the loss of close friend and Love Island star Sophie Gradon made him realise it was time to put something "happy back into the very dark, and sometimes dangerous place that is the internet."
"Her death really hit me and made me realise how many pressures come from social media and online trolling," he said.
Daniel Westwood promoting his #here4u campaign in support of mental health
"I want to get the message across to people that it is okay to talk about your struggles because at first, even I was embarrassed to speak out.
"I find that in my industry, especially men, face struggles. If just one person sees the message then it can be a way to open up the conversation."
Daniel, originally from the North East, is now a proud ambassador for the MND charity, with plans to embark on a schools tour once restrictions are lifted and begin an online podcast, spreading the message 'it's ok not to be ok', 'speak out' and 'you are never alone in this struggle'.
After originally planning to be aired for Mental Health Awareness week but put on hold due to the Covid-19 pandemic, Dan's new podcast will talk to nutritionists, councillors and people pushing through mental health difficulties. Episodes will cover topics such as LGBT struggles and a special on men's mental health.
Actor and Presenter Dan Westwood, campaigner for #here4u.
"I think the pandemic has impacted people because their day to day routines have been interrupted. A campaign like this can help now more than ever because people are facing more struggles in their daily lives," he said.
"Once I spoke out, the support I had from producers and other cast members was great. I've realised that discussions are now getting pushed more and more and it's about that message getting louder."
You can find information about #Here4U on Facebook and on Instagram at @westwooddan