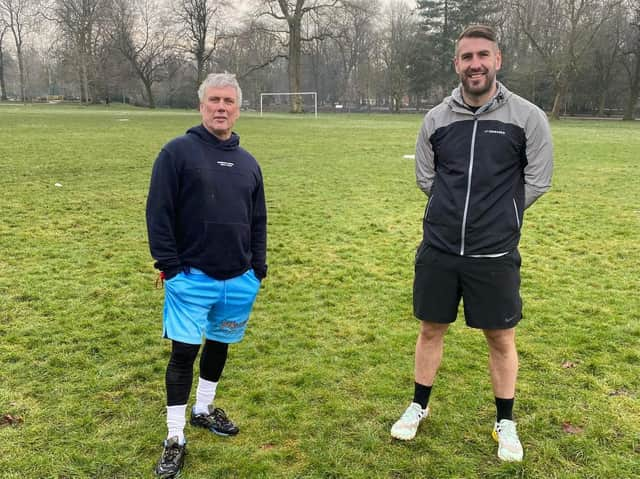 Andrew with music star Bez before filming their outdoor fitness class
Coach Andrew Naylor, owner of Fit Forward, has formed a support bubble with the northern musician, who's real name is Mark Berry, in a series of new fitness classes which are being shared to streaming site Youtube.
And the videos will see Andrew put him through his paces, working on low impact strength exercises in a bid to slowly build him up to peak fitness.
Andrew, 37 said: "The series just works because Bez goes against all the stereotypes of who you expect to see in a fitness video, but it shows that getting fit is achievable for anyone.
"A friend I went to school with is a producer, and he got in contact with me asking if I wanted to be involved in a project with someone from the music industry who was trying to get fit.
"When I was told it was Bez it was hilarious, I knew it would be challenging but I accepted it. We met to film the first episode two weeks ago and I couldn't believe how serious he was taking it and how much he wanted to get fitter and healthier."
Bez, 56, hopes to lose his lockdown weight and use the series to help motivate others into fitness in 'Get Buzzin' With Bez'.
In the first video, shared on January 17, Bez confesses that he hasn't exercised in two and a half years, before Andrew encourages him to perform shoulder taps, squats and high knees in a bid to shift the weight.
The 15-minute clip was viewed more than 30,000 times in the first 24 hours of being shared online, and has now been seen almost 50,000 times.
Alongside high intensity exercises, the series will see the Manchester musician visit a psychologist, try hypnotherapy and learn yoga.
Andrew added: "As a company, we are all about helping normal people and mums and dads with normal body types. We run programmes specifically for parents too about being healthy and keeping fit.
"We know that we aren't trying to attain the goals we see on Instagram with models and perfect abs, which is why this series fits so perfectly with who we are and what we are about. It is relatable and shows people that with determination, you can get fit.
"The first few episodes focus on beginner tasks which we will build up over the weeks as he gets fitter with more progressive moves and workouts. That is how we run our own programmes at Fit Forward - we don't try to break people, we build them.
"This series shows that anyone can do it as long as they have the motivation."
The free Youtube series was first set out to last four weeks, but has since been extended into a 12-week season following a positive response.
Andrew's company Fit Forward also uses Youtube to and include a range of schemes for different body types such as 'fit mum' and 'fit dad' for parents looking to shed the pounds.
And he created a range of home fitness videos that could be followed by people during the lockdown, which can be seen here.
Thanks for reading. If you value what we do and are able to support us, a digital subscription is just £1 per month for the first two months. Try us today by ​clicking here.