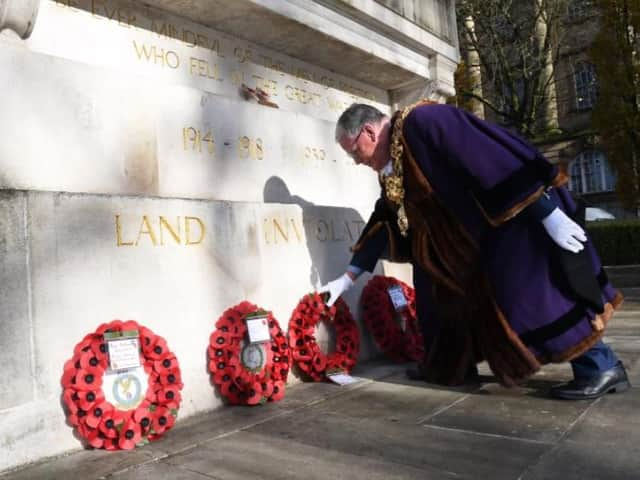 Mayor of Preston Coun David Borrow lays a wreath at the city's War Memorial.
But ex-services chiefs are determined the fallen will not be forgotten by asking people to mark the annual two minutes silence on Sunday - and next Wednesday - from their own homes.
Preston's Remembrance Sunday service has been called off, like hundreds of others across the country. But a poignant and private wreath-laying ceremony has already taken place at the War Memorial in the city centre to be broadcast online on the day.
The public are being urged to support the Royal British Legion's Poppy Appeal which has been badly-hit this year due to the coronavirus pandemic.
And the Lancashire Post has produced a special pull-out poppy poster for people to display in their windows.
Retired Colonel David Waters, who is president of the Preston and District Veterans' Council, said: "This year, because of the difficulty of deploying volunteers to collect the money, the difficulty in handling cash and the closure of many prime sites for 'setting up stall,' any donation, great or small, is more greatly valued because it will probably require more effort to obtain a poppy.
"Going out of your way, without necessarily going out in these difficult times, to remember, honour and support your servicemen and women could not be more important if the sterling work of the Royal British Legion is to maintain its current levels.
"I fully support the Post's idea to produce a poppy poster for people to display in their windows. It is a great way to show our support for the Royal British Legion and the great work that it does."
Retired Colonel David Waters at the Preston service yesterday.
Colonel Waters and the Mayor of Preston, Coun David Borrow, both laid wreaths at the War Memorial at 11am yesterday in a small socially-distanced service attended by only a handful of people.
"We felt we had to do something and film it to show on social media so people don't have to put themselves at risk by going out," he explained. "It is very disappointing not to be able to gather at the Cenotaph as we normally do, but people's health must come first, especially the more vulnerable older veterans."
Preston's Parade Marshal, former Scots Guards Warrant Officer Michael Nutter, would have played a key role in the city's Remembrance Sunday ceremony.
He said: "I fully agree with the decision to not hold the normal Remembrance Parade and event this year. Instead I would encourage everyone to remember from home in ways appropriate to them, to place poppies in their windows, to support the Poppy Appeal and to watch Remembrance events online or on TV.
Civic line-up in front of Preston's War Memorial.
"I appreciate how disappointing it will be to so many people. But in my view, remembering in a different way this year will be one way to help protect the health of both individuals and the wider community during this difficult time."
It is thanks to our loyal readers that we can continue to provide the trusted news, analysis and insight that matters to you. For unlimited access to our unrivalled local reporting, you can take out a subscription here and help support the work of our dedicated team of reporters.
The standards are lowered in honour of the war dead.