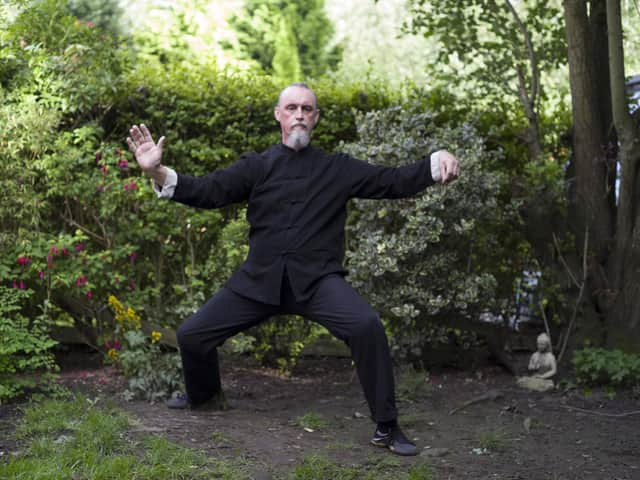 Mark Humphreys, who leads Ling Shui Tai Chi classes
While such a lofty and grand genesis is naturally impossible to verify, a similar core principle - that of being fluid like water - is definitely behind Ling Shui Tai Chi in Preston. Inspired by the Bruce Lee quote - 'Empty your mind, be formless, shapeless - like water... Now water can flow or it can crash. Be water, my friend' - ling shui means 'spirit of water' in Mandarin.
Formerly called Daolin, the club became Ling Shui Tai Chi in 2017 after a former instructor Phil Robinson retired and Mark Humphreys, a former student of Taekwondo and Kung Fu black belt who had been helping Phil run some of the classes, took the reins.
"I always loved martial arts but, as I got into my 20s, all the usual distractions took hold and because of one thing or another, they fell by the wayside," explains Mark, 52, who grew up in Tarleton. "I didn't do anything for the best part of 20 years apart from slip into middle age.
"Whilst on holiday in the Maldives, I fell in love with diving but quickly realised that I'd become unfit and put on weight," he adds. "Given what we used to do, going back to Taekwondo would have killed me at 40, but Tai Chi appealed to me and, from the start, I just 'got' it. It's all body mechanics and, fortunately, that comes naturally to me so I had a natural affinity for it."
Simultaneously a martial art and a spiritual practice, Tai Chi has emerged as one of the world's most popular forms of exercise over the past few decades, with Ling Shui - prior to the outbreak of the pandemic - running classes in Penwortham, Bamber Bridge, Lostock Hall, and Tarleton as well as Age Concern's weekly class at the Friendship Centre.
While classes vary in difficulty from beginner to advanced, all members practice the original old frame Chen Family Tai Chi, the oldest documented form of T'ai Chi Ch'uan. The form can be traced back to the 1300s, according to Chen family history, and was only taught in the Chen village region until 1928.
"All of our movements originate from our centre of gravity and in Tai Chi the idea is we learn control," says Mark, who for a time trained in Tai Chi with a Chinese master in Manchester called Li Ming Yue. "It's about using the mind to move the body in a deliberate way and harnessing those muscles and forces we don't have conscious control over.
A Ling Shui Tai Chi class in action prior to the pandemic.
"When I started teaching, it was terrifying because I had to stand in front of a room full of people and say 'do this'," he adds. "I still suffer from imposter syndrome because, 12 years in, I feel like I'm just scratching the surface of Tai Chi myself. I'm still a student in the grand scheme of things but everyone engages differently and there's a lot of room for self-expression.
"When, as a teacher, you know that it's doing some good and filling a need for people, it's very satisfying."
Having moved their classes online in lockdown, Ling Shui also offer a weekly Qigong session exploring movements, breathing, and meditation which provide a good basis for Tai Chi.
"The online classes have gone well; my initial suspicion was that it wouldn't work because I can't go round and help and correct people, but people are learning the sequences and, all-in-all, it's translated quite well," Mark says. "The mental and physical balance of Tai Chi has made it vital at a time like this.
Mark with his sword, also named ling shui.
"It's all about how you move, so it makes you think and relax," he adds. "It makes you feel more deeply and brings you into the moment. It's about self-analysis and that can make such a difference."
Thanks for reading. If you value what we do and are able to support us, a digital subscription is just £1 per month for the first two months. Try us today by clicking here