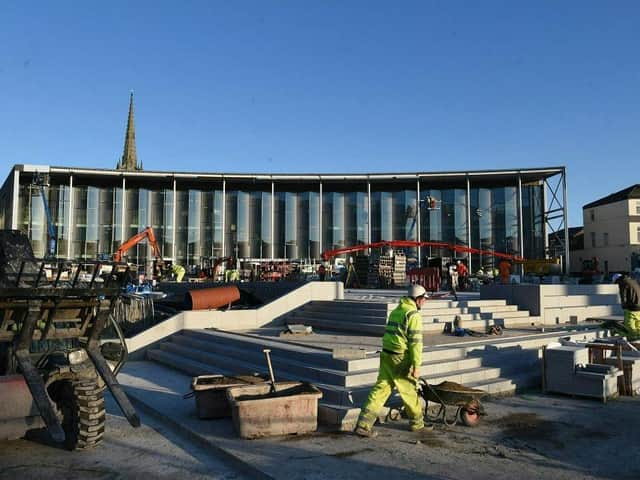 The new public square at the Adelphi Quarter is taking shape
Education is the driving force of any city and Preston is no exception.
The University of Central Lancashire (UCLan) is home to a staff and student community of 38,000, with the majority of those based at the Preston campus.
The diverse student population, when allowed back on campus full-time, can enjoy the use of state-of-the-art facilities, including cutting-edge medicine, dentistry, nursing, forensic science and engineering laboratories, an in-house law court, a purpose-built outdoor television set and on-campus social spaces.
UCLan's new Engineering building
Students get free access to the nationally recognised Sir Tom Finney Sports Centre and UCLan Sports Arena while the university's academics are leading experts in their fields, with the United Nations, World Health Organisation and NASA among its international research partners.
But the university is also a part of the city centre itself and new building work, in particular to create a public square, will cement that.
A UCLan spokesman said: "We are proud to be a major civic institution within Preston and the wider North West and recent figures show we add £200 million to the local economy every year.
The graduation ceremony is one of the highlights of the university year
"We know our students enjoy learning in our state-of-the-art facilities, and more are currently being created as part of our £200 million masterplan; we offer a wide-ranging course portfolio which is accessible to learners from all educational backgrounds and we have close industry links to major employers, some of whom are based within the local area.
"We also believe in doing everything we can to ensure all our students have the support they need so we were delighted to know our investment in student well-being services was recently recognised nationally we came top of the 2020 Student Welfare League Table."
Over in Fulwood, Preston's College is a technical, specialist college, rated 'Good' by Ofsted and it is building for the future.
Aiming to equip its students for their future careers, the college has has just secured funding as part of the Government's Department for Education T-Level capital investment programme to further develop its construction facilities and equipment in readiness for the introduction of the Professional Construction T- Level in September 2021.
This exciting development will ensure learners have access to the latest technology and equipment, combined with high-specification industry-standard facilities.
The college is confident that this development will support its industry-trained staff to further advance the delivery of high quality technical learning in construction.
From September 2021 the college will be offering the T-Level in Professional Construction; Construction Surveying and Design.
Its aim is to respond to local infrastructure investment and activity, expanding the curriculum to meet the needs of the Lancashire construction industry.
Lis Smith, principal adn chief executive, said: "This is a significant advancement for our construction department and one we are all very excited to be a part of.
"The introduction of T-Levels this year brings with it many opportunities for the young people of our region, and with this landmark development, we are able to offer our learners the very best in industry standard facilities and equipment."