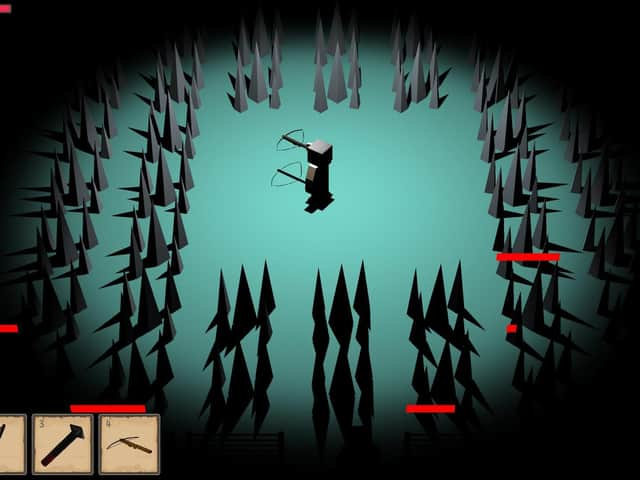 A still from Matthew Lowes winning Zombie Outbreak game.
The pair, from the University of Central Lancashire, have been named the world's the best games' students after winning an international competition.
Final year student Matthew Lowe won the Search for a Star 2020 competition while Justyna Kwiatkowska was chosen as the recipient of the Sumo Digital Rising Star 2020 competition, an award for first and second year students.
Both were crowned winners in the games programming category of the world-wide contest.
A visual image of Justyna Kwiatkowskas face-paced winning game.
Matthew, 21, who is in the final year of his MComp (Hons) computer games development course, had to complete a range of tasks to claim the top spot with his Zombie Outbreak game.
He said: "The main piece of the competition was the 'Dev Project', where you're given a starter project and then you build a game on top of it.
"You had one to two months to develop this, it is then shown to industry experts where they give feedback and rate it. However, to make the final the scores are combined with a programming test.
"The final stage is an interview with several technical directors from various games companies, where they further quiz your technical knowledge."
No stranger to gaming victory, had previous success in Aardvark Swift's Grads in Games awards and said: "I was over the moon when I found out I'd won.
After coming second in the Rising Star competition two years ago, it was my goal to win Search for a Star this year, and the hard work paid off."
The winning prize includes the chance to receive a job interview with leading game development studios, but he has already accepted a job offer as a Junior Programmer at d3t in Runcorn.
Justyna, who is in the second year of the same course, claimed the Rising Star Award for The Categon, a fast-paced dungeon crawling game.
The 24-year-old, from East Lancashire, studied games development and computing at Accrington and Rossendale College before moving to UCLan.
She said: "The fact that I had won took a while to fully sink in, I even had to re-watch the stream later to be sure. But now that it did sink in, I'm very excited to have made it."
The judging panel praised both students for the quality of their work and their success has a special meaning for
their lecturer Dr Gareth Bellaby, who is retiring from UCLan after teaching on the computer games development programmes for 16 years.
He said: "I'm very proud of their achievements, they've worked extremely hard and it was wonderful to hear such fabulous feedback from the judging panel."
"This is a competition the university has had a lot of success in since it started 10 years ago with many students claiming to top prizes.
"The quality of students coming off our courses and going straight into the industry is fantastic."